U P S I L O N
A C R U X

first-ever appearances outside the USA
EUROPEAN TOUR
SEPTEMBER & OCTOBER 2009


[From left to right: Marty Sataman, Chris Meszler, Paul Lai, David Moeggenberg, Phil Cobb]
Upsilon Acrux (Los Angeles, CA, USA), an instrumental quintet (dual guitars, keyboards, bass and drums), is one of the most creative, original and sonically spellbinding bands on the U.S.A.'s thriving post-punk, avant-garde rock scene. Cuneiform Records has just released Radian Futura, the band's sixth album of explosive, intense and surprisingly beautiful intricate, instrumental rock, which is generating praise and attention for the band in the music press. But in addition to such acclaimed recordings, Upsilon Acrux is reknown for presenting brutally intense live shows. Based on the West Coast, the band is a regular on the circuit of L.A.'s legendary venue, the Smell, where it continues to develop its uncompromising sound. Upsilon Acrux has shared the stage with such acts as The Boredoms, The Ruins, Mission of Burma, the Locust, Don Caballero, Bad Dudes, the Fucking Champs, Dillinger Escape Plan, Cattle Decapitation, Black Heart Procession, Hella, Lightning Bolt, Marnie Stern, Flying Luttenbachers, Orthrelm, Time of Orchids, Experimental Dental School, Truman's Water and Mick Barr. Never seen on stage before outside the USA, the band will tour Europe for the first time ever in September and October 2009. Don't miss this rare opportunity to see one of Upsilon Acrux's legendary live performances in Continental Europe and the UK!!
What the press have said :
"...a stunning example of both virtuosity and clever composition...amazing, and amazingly consistent...."
- All Music Guide
" Seldom is music so challenging also so easy to listen to."
- Prefix
"...there's something revitalizing about hearing a band like Upsilon Acrux hitting their stride...."
- Dusted
"There are plenty of bands out there trying hard to play music this technical, but very few succeed to the level that Upsilon Acrux does, and so effortlessly."
- Exposé
-----------------------------------------------------------------
Fall 2009 European Tour

(live at WFMU 6/23/09)
The band will have tour stops in the following countries:
GERMANY, CZECH REPUBLIC, DENMARK, THE NETHERLANDS, BELGIUM, FRANCE, ITALY, SPAIN, UNITED KINGDOM
Don't miss this rare opportunity to
SEE one of Upsilon Acrux's jaw-dropping live shows and/or
to INTERVIEW the band in-person!

Tour Dates:

September 10
GERMANY, Würzburg - Cairo - Fred-Joseph-Platz 3
http://www.cairo.wue.de/wordpress/
September 11
GERMANY, Dresden - Az Conni - Rudolf-Leonhard-Str. 39
http://www.azconni.com/
September 12
CZECH REPUBLIC, Prague - [to be confirmed]
September 13
GERMANY, Mainz - Haus Mainusch - Staudinger Weg 23
http://www.myspace.com/hausmainusch
September 14
GERMANY, Hamburg - Astra Stube - Max-Brauer-Allee 200
http://www.astra-stube.de/
September 15
GERMANY, Potsdam - Kuze - Hermann-Elflein-Strasse 10
http://www.kuze-potsdam.de/
September 16
DENMARK, Copenhagen - Klub Adorno - Kattesundet 6
http://www.myspace.com/clubadorno
September 17
NETHERLANDS, Rotterdam - Poortgebouw - Stieltjesstraat 38
http://www.poortgebouw.nl
September 18
NETHERLANDS, Maastricht - Landbouwbelang - Beisenwal 3
http://www.landbouwbelang.com/lbb2/
September 19
BELGIUM, Mons - Finzerb - Marché aux Herbes 20
September 20
FRANCE, Strasbourg - Molodoï - 19 Rue de Ban de la Roche
http://www.molodoi.net/programme.html
September 21
FRANCE, Reims - [to be confirmed]
September 22
ITALY, Torino - United Club - Corso Vigevano 33
http://www.myspace.com/unitedclub
September 23
ITALY, Rome - Sinister Noise - Via dei Magazzini Generale 4a
http://www.myspace.com/sinisternoiseclub
September 24
ITALY - [to be confirmed]
September 25
ITALY, Milano - Bloom - Via Curiel 39
September 26
FRANCE, Lyon - Le Periscope - 13 Rue Delandine
http://www.periscope-lyon.com/
September 27
SPAIN, Barcelona - [to be confirmed]
September 28
FRANCE - [to be confirmed]
September 29
FRANCE, Lille - L'Ara - 301 Avenue des Nations Unies
http://www.ara-asso.fr
September 30
FRANCE, Paris - Le Rigoletto - 337 Rue de Belleville
October 1
UK, Chatham - The Tap & Tin - 24 Railway Street
http://www.tapntin.co.uk/
October 2
UK, Milton Keynes - [to be confirmed]
October 3
UK, Liverpool - The Kazimier - 4-5 Worstenholme Square
http://www.myspace.com/thekazimier
October 4
UK, Winchester - [to be confirmed]
October 5
UK - [to be confirmed]
October 6
UK, London - Barden's Bar - 36 Stoke Newington Road
http://www.bardensbar.co.uk
October 7
UK, Leeds - Brudenell Social Club - 33 Queens Road
http://www.brudenellsocialclub.co.uk

October 8
IRELAND, Dublin - Lower Deck - 1 Portobello Harbour
http://www.myspace.com/lowerdeckdublin
October 9
IRELAND, Cork - Quad - Tuckey St.
http://thequadbar.com
If you would like to request an INTERVIEW (in-person or via phone / email) with the band while on tour, please contact:
Joyce (Cuneiform) at joyce@cuneiformrecords.com AND
Chris Meszler (Upsilon Acrux) at cmeszler@gmail.com
Upsilon Acrux is also available for RADIO INTERVIEWS as well as IN-STUDIO APPEARANCES.
-----------------------------------------------------------------
Radian Futura Press Release:
Upsilon Acrux is among the best of the bands (The Flying Luttenbachers, Hella, Orthrelm, Ahleuchatistas) transforming math-rock's post-punk landscape, reinvigorating modern music's physically powerful, aggressive and speed-driven sound by infusing it with a compositional intensity and technical prowess long associated with various forms of metal (speedcore, technical metal, thrash) and progressive rock. In Upsilon Acrux's hands, this sonic fusion results in an explosive new music that is both exhilarating and abstract. While the band cites an encyclopedic array of influences - everything from progressive and math rock (Magma, Henry Cow, King Crimson, Magma, Univers Zero, The Muffins, The Ruins, The Flying Luttenbachers, Zappa, Don Caballero); Krautrock (Faust, Neu!, Kraftwerk); metal and death metal (Morbid Angel, Necrophagist, Meshuggah); the energy and spirituality of jazz and free jazz (John Coltrane, Ornette Coleman and The Mahavishnu Orchestra); and more (This Heat, Nels Cline) - its music is not derivative of, nor directly comparable to, any one band - or any pre-established genre. A tapestry of complex and hyperkinetic instrumental sound, Upsilon Acrux's music is composed of disparate elements, dissonance and unexpected time changes daringly interwoven with, and/or punctuated by, beautiful and accessible melodies. In the words of one of the guitarists/founders, Paul Lai:
"Those really obvious genre trappings, signature stuff from any genre - that's something I always wanted to stay away from. …Ultimately, I'm looking for singularity. We strive for unprecedented music. It's not to impress or associate; really just to make unprecedented music."
Upsilon Acrux formed in 1997. Guitarist Paul Lai recalls that he and another guitarist, Cameron Presley, started the band in Vista, a town in rural California "45 minutes from San Diego but several world's away," and "out of a desperate need to play interesting music." Adding Tom Cutler and drummer Jesse (Klecker) Appelhans to their lineup, they plunged into serious practice and adopted the name Upsilon Acrux - a name without specific meaning, but which the band agrees increasingly "fit" the music. The band played its second live show in November 1997, on Klecker's 21st birthday.
The band's recorded debut was auspicious - the 10-minute instrumental "Before The Pirates Came" appeared as the opening track on a compilation of San Diego experimental music called Trummerflora 2, released by Accretions in 1998. Accretions released Upsilon Acrux's first full-length album, In the Acrux of the Upsilon King, in 1999. The debut CD's "inexhaustible musical invention" caught the attention of avant music's most prestigious magazine, The Wire, who praised the music as "free jazz and hardcore fusion dominated by an astonishing kind of Splatter Prog." Recorded by Lai, Klecker (Appelhans), Presley and Muir Tennerstet on bass, the 74-minute album was a "consistent assault on your regular rock instruments, accompanied by moogs and wacky sax" [Audion]. Upsilon Acrux released its 2nd CD that same year on Win. Titled The Last Pirates of Upsilon and featuring a new bass player, Josh Quon, it contained 70 minutes of dense, tightly woven original compositions that the All Music Guide called "both cerebral and physical at once." It won the admiration of Thurston Moore (Sonic Youth), who proclaimed: "Upsilon Acrux is Amazzzzzzzzing."
By the time Upsilon Acrux's 3rd album, Last Train Out, came out on Hactivist in 2001, the now-trio of Lai, Appelhans and Presley had surgically sharpened its technical skills into "stop-on-a-dime tightness" and condensed its knotty compositions into 34 minutes of music "filled with enough ideas to easily flesh out a CD twice that length" [AMG]. Critics hailed Last Train Out as "the group's most dynamic release to date" [Splendid], and in a 4-star review, AMG noted that the album would "further establish Upsilon Acrux's complex, spastic, yet robotic style as something distinct from its varied predecessors - King Crimson, Massacre, Don Caballero, Henry Cow…" Splendid also noted that: "UA is no longer a band that sounds like Don Caballero or Ornette Coleman on crack; it has defined its own sub-genre of self-effacing guitar theatrics and unconventional drumming…" A stylistically mature work, Last Train Out marked Upsilon Acrux's coming-of-age.
Upsilon Acrux's 4th release, Volucris Avis Dirae-Arum (Epicene/Planaria), featured a radical new lineup with two drummers. Lai and Appelhans had wanted to do a dual-drummer project since seeing King Crimson do one and being disappointed at "the promise unfulfilled." While Lai boasted that "we outdid King Crimson with our polyrhythms," Dusted noted that the CD "relies on more than these jaw-dropping pyrotechnics to be successful. …It's Upsilon Acrux's songwriting that sets them apart, not flashy instrumentalism or fiery bombast." "Technically brilliant, rhythmically unbelievable, with just the right amount of melody," said Disagreement. "…Volucris Avis Dirae-Arum is the album Henry Cow might have recorded, had they been founded in this millennium, and their refusal to improvise plus the not too long running time make this a perfect entry point into modern complex music."
In 2006, the owner of Cuneiform ran across a video on Youtube of Upsilon performing their latest material and was utterly shellacked by it. Contacting the band, arrangements were made for Cuneiform to release their next album. That CD, Galapagos Momentum, was Upsilon Acrux's 5th release. In it, the band returned to a "more natural rock-band" lineup with one drummer - Appelhans, two guitarists, Lai and Braden Miller, as well as bass player Eric Kiersnowski. Galapagos Momentum featured 41 minutes of aggressive, intricate, athletic and composed post-punk instrumental rock contained on 10 tracks.
Shortly after the release of Galapagos Momentum, Paul assembled a new version of the band featuring himself and David Moeggenberg on guitars, keyboardist Phil Cobb, bassist Marty Sataman and drummer Chris Meszler and Upsilon went on an extensive tour, traveling and performing all the way across the US to the east coast and back again over a 4 week period. Soon after, they were tapped to open for Mission of Burma at a music festival in Kalamazoo, MI, where they performed for 3,000 people.
Returning home, the band played local shows and festivals and began working on new music, which culminated in the band's sixth album, Radian Futura. Radian Futura is an album of explosive, intense and surprisingly beautiful, intricate, instrumental rock. Simultaneously physical and cerebral, challenging and melodic, Radian Futura is Upsilon Acrux's most accessible yet sophisticated release to date.
An active touring band, Upsilon Acrux embarked on an extensive touring schedule immediately following Radian Futura's release this summer. They performed a series of local shows in southern California and did an intensive two-week, cross-country tour of the USA. In September and October 2009, the band will tour Europe for the first-time ever, touring for a full month throughout Continental Europe and the UK.

(Image courtesy of Flickr user Little Baby Zorak)
We asked Paul Lai to discuss the making of the album and how Upsilon Acrux operates:
How did you or the band compose this album?
"There were a couple of different ways we approach each album, there are songs that one person comes up with their parts and the rest of us contribute where needed. Then we all agree on length of parts and what needs to be done to polish the piece off. Specifically the first, fourth, fifth and sixth are mine and the second is Dave's and the third song is Phil's. The most difficult song was obviously the longest one, Transparent Seas. This took me 6 months from beginning to end, that's 6 months of half sleeping, half problem solving to attain what I personally think is the best thing Upsilon has ever done."
Did anything special influence the band in terms of the compositions or the recording of this album?
"For me the big thing was conversation...
It may surprise people that playing on a grid of any kind is stupid to me, and almost completely useless because it's what we've done so much of before and there's so many people who are better at it than me. I'm not doing this music to compete, I do it because I have to. This shit keeps me up, it strains and tugs at me all the time. I've made a personal effort to keep the compositions more conversational. You know how people repeat musical phrases and usually complete them on even bars? Well when we speak to each other in any kind of conversation, the conversation can change on a word, any given word; a phrase can be interrupted and taken in a different direction because that word triggered something. I tried to use that logic in these songs, but not overtly, just knowing that if something felt right to me I would move and go on to the next sentence without completing the previous sentence. Additionally, sometimes the sentence doesn't start with the first phrase, it might start on the 3rd or 4th word because it felt more human to me. That to me was the breakthrough. It opened up phrases in a way that I think makes more human sense but perhaps less musical sense in that phrases don't start and finish where the listener might expect it to. Also Transparent Seas was an unbelievably hard song to write. If our other songs are short stories or long conversations, this was like writing A La Recherche Du Temps Perdu (Marcel Proust). And to keep it sane and make perfect sense at least to me and keep the emotional context without deviating was near impossible. I'm proud as shit of this album."
Where and how was Radian Futura recorded?
"We recorded this album at the same place as the last Cuneiform release, which is Infrasonic Studios in Alhambra, but this time we did it with Pete Lyman who we absolutely adore!! We recorded it one weekend a month over a 3 month span, then mixed.
We set everything up in the studio and did live takes and added flourishes as required. We were able to overdub a lot of sounds that I've always wanted but either didn't have the money or the sympathy of my band mates to attempt.
Pete Lyman really helped us out in ways more than any engineer has. We credit him with producing the album because he did in a lot of ways. He kept things open, got great sounds, kept us focused, and made it an easy and fun environment for staying creative. I don't think we've ever been less stressed as a band during the recording process. Plus he helped out tons in processing some sounds and some wacky ideas that I had, some of which we used, some of which he let me see that that they didn't work and to let them go."
What about the artwork?
"The front cover is Rob Sato, he's amazing and the back cover is Allison Schulnik who's also completely amazing!! They were both given the phrase "Radian Futura" and asked to do what they felt was right. We gave them no specifics or any direction; these two amazing paintings are what they came up with and the instant we saw them, we knew we had our cover(s). We are grateful to have such amazing artists making us look better, and better yet, giving the music inside some images that will stick.
Do you have any thoughts on the band's 'evolution' over the last dozen years?
"I think each incarnation of the band has done the best that it can. The goal has always been the same: make unprecedented music. There's a new band personnel on every record and I think the new blood always helps; it takes so much energy and dedication to do this kind of music because the rewards are like wounds of a well studied kung fu master... internal. With each album by Upsilon that has come out, a different version of the band then arrives on tour to play the material to people who swear the previous version of the band was the best. Well, things have changed - this is the band that wrote and recorded this album, and this is the band you will see this year. This is a first!!
For more information, please see:
www.meszlermedia.com/upsilonacrux
www.myspace.com/upsilonacrux
PROMOTIONAL PHOTOS: (Click on the thumbnail for a High-Res image.)
Digital [High-Resolution / Color] versions of these images are available for download on www.cuneiformrecords.com in the "Press" section.
-----------------------------------------------------------------

EXCERPTS FROM WHAT THE PRESS HAS SAID ABOUT UPSILON ACRUX:
Galapagos Momentum
Cuneiform, 2007
[ Lineup: Jesse Appelhans (drums); Eric Kiersnowski (bass); Paul Lai (guitar); Braden Miller (guitar) ]
"Galapagos Momentum, the new full-length recording from San Diego's Upsilon Acrux comes through the speakers without introduction and at full ramming speed. Instantly the listener is taunted by frantic guitar-tapped triplets and manic snare drum syncopation. … Cerebral and intuitive bass lines are punctuated by spastic bursts of a free-jazz nature.
… they represent a growing faction of instrumental neo-prog/hardcore outfits bent on creating the most feverish amplified equations possible. Bands like Upsilon seem perversely fueled by aurally discordant mind spaces. Without turning to any vocal imagery or expression, they construct songs as a series of vignettes, snapshots into a tortured and primal self beyond language. …
…possessing enough balance to warp time and space while still drawing in the average listener. Suspense is built at the outset by a dark bass guitar raga… later they're in Minutemen territory, kicking out fast-paced slink and jive before descending into sparse, clean-toned doom. …"
- Geoff Shiner, Performermag.com, www.performermag.com
"What do you get when you combine elements of Red-era King Crimson, The Mahavishnu Orchestra, Henry Cow, Magma, Univers Zero, John Coltrane, The Dillinger Escape Plan, Don Caballero, and Hella? Probably something close to Galapagos Momentum by Upsilon Acrux, a brash four piece band featuring dual guitars, bass, and drums, who play a complex brand of insrumental rock that is part prog, part fusion, part metal, and part post-punk. Sound interesting? It sure is. …this CD sizzles from start to finish, ten tracks of complex interplay that is bound to knock you on your ass in awe of these four dudes' knack for telepathic interplay. As they weave their intricate lines and melodies through complex ditties…you can't help but be impressed with the dexterity of it all, especially the deft guitar work of Paul Lai and Braden Miller. These two have perfectly channeled some warped hybrid of Robert Fripp, Adrien Belew, Fred Frith, and John McLaughlin, and, coupled with the amazing rhythms from drummer Jesse Appelhans and bassist Eric Kiersnowski, turn pieces…into what could be long lost tracks from Crimson's Larks Tongues in Aspic album. … All of this insantity is funneled through a punk attitude and sense of aggression, making Galapagos Momentum one hell of an exciting listening experience. … [Score: 4 stars]"
- Pete Pardo, Sea of Tranquility, June 27th 2007, seaoftranquility.org


"… If he were alive today, Mozart could just join a "brutal prog" band and play all the notes he wanted. …the band's into four-man hardcore alien sex, using warp-speed guitar tapping and athletic drum/bass maneuvers to lock in and then orgasmically bust out of rhythmic and harmonic prog pretzels.
…Galapagos Momentum can go toe to toe with Sleeping People, Zs and Ahleuchatistas in terms of the complexity of the material. But despite all the unpredictable switches between harmony and dissonance, space and clutter, groove and anti-groove, Upsilon Acrux wants to connect. New guitarist Brady Miller applies the kooky melodicism of his other band, Bad Dudes, to songs…resulting in some beautiful, finely textured passages the likes of which we've never heard from…any other instrumental rock band… save perhaps Don Caballero… Seldom is music so challenging also so easy to listen to.
…these ten hyper-composed tracks come off as elastic, almost spontaneous. Maybe the culprit is the ultra-clean guitar tone employed by Miller and Paul Lai… Maybe the way that Eric Kiersnowski stubbornly refuses to accept his role as bassist and instead finds his way into the contrapuntal guitar matrix, keeps things from getting stale. Perhaps it's drummer Jesse Appelhans's aversion to conventional fills and pickups that gives the album such a fresh rhythmic drive. …Galapagos Momentum is weird and playful and glowing, a much-needed antidote to the normally sober world of instrumental progressive rock."
- Etan Rosenbloom, Prefix, June 26, 2007, www.prefixmag.com


"Punk and prog aren't the most natural pairing, but a small number of bands have been finding the connections—among them, Hella, Flying Luttenbachers, and Upsilon Acrux, a San Diego outfit of variable size… Their fifth full-length is a work of dazzling complexity, moving at blink speed over pixilated landscapes of fractured sound. In opener "Who's Running Shit (Son of Destiny's Child)", guitar and drums move in linked, but distinct patterns, occasionally joining in unison, but mostly using each other's forays as jump-off points; during a lyrical middle section, guitar notes turn liquid and less frantic, while the drums surge and splatter and burst explosively underneath. Points for funniest title go to "Touched by God (In Appropriately)", and the music, too, seems to grin a little, staccato bursts of guitar and synth setting off clash and stutter of drums, everybody exulting in sheer speed and difficulty. … Consider these compositions as odd-sided polygons, not quite fitting into the square slots assigned to them, a bit alien in their geometrical precision, yet utterly true to their own difficult nature. [Rating: 7/10]"
- Jennifer Kelly, Popmatters, September 21, 2007, www.popmatters.com


"Unlike the swath of bands making avant-garde punk noise these days. Upsilon Acrux have been paying their dues with recordings up and down since 1997. …the execution makes for an album that doesn't sound like random shit thrown together… for fans of the style and those initiated to varying degrees, the album is considerably more enjoyable…due to GM having stronger nods to traditional rock structures. …the best moment on GM comes with the opening song "Who's Running Shit (Son of Destiny's Child)" - specifically, the atmospheric guitar attack towards the end. Rock."
- ExoDuster, March 2008, www.exoduster.com


"… Even folks who despised math in school will be able to appreciate these incredibly intricate yet undeniably satisfying performances. The lines unleashed by guitarists Paul Lai and Braden Miller throughout "Touched by God (Inappropriately)" and the rest of these sonic outbursts are the aural equivalent of a double helix: complex, well-constructed, essential. "
- Michael Roberts, Denver Westword, November 6, 2007, www.westword.com


"… Upsilon Acrux have toned done their metal/brutal edge and honed their skills even more, if that's possible. … "Who's Running Shit (Son of Destiny's Child)" is a stunning example of both virtuosity and clever composition: guitar parts are interlaced and full of intricacies, while the drums take on a modular approach, with a new pattern every four bars. It's quite a head rush. "Expiration Date… and "Touched by God (Inappropriately)" are also just as dense and masterful. "Hiking Up Feel Good Mountain…," …showcases a softer side to the band, with cyclical guitar motives evoking Heldon... However, singling out a few cuts does no justice to this amazing, and amazingly consistent, album. And here, the group strikes a convincing balance between the aggressiveness of bands like Ruins and the Flying Luttenbachers, and the lighter feel of Miriodor and Forever Einstein. … How fitting that it turns out to be their best and (relatively) most accessible release to date. [Rating: 4 stars]"
- François Couture, All Music Guide, www.allmusic.com


"Upsilon Acrux, according to…The Wire are "free-jazz and hard-core fusion dominated by an astonishing kind of Splatter Prog" which kind of makes sense, although there's a lot more rock here, and even some dangerous teeters close to thrash metal. But it is also very precise, complex and dazzlingly arranged really. And, woah, it's so in-yer-face and frantic that you could end up panting just by listening to it! The guitarist is in that crazy French punk meets Robert Fripp type of style, and the rhythmic structures are often totally John French / Jerry Handley (Magic Band), and there's a surprise around every corner, rhythm break, chord changes, etc. …"
- Alan Freeman, Audion, Issue #54

"… Upsilon Acrux's music is quite reminiscent of "Five Percent for Nothing" from Yes's Fragile. …the herky-jerky asymmetrical meters, loose feel, relatively clean guitar sound, slight buzz of the bass, dissonant harmonies with a lax tonal framework, and meandering, contrary lines approaching…polyphony. …atypical of the Yes oeuvre, but indicative of its edgier possibilities.
… Like Yes, Upsilon Acrux's musicianship, craft and technique is of the highest order, belying the casual, but energized, almost garage-band sound and attitude. It is not without good reason that Upsilon Acrux has been associated with the post-punk scene, winning high praise from Sonic Youth's Thurston Moore, as well as Renaissance guitar man Nels Cline. When Upsilon Acrux acknowledges the influence of Magma, Henry Cow, Ornette Coleman, Faust, Messhugah, and Ruins, it all makes sense."
- Dean Suzuki, Progression, Fall 2007, Issue 52

"TOP 2007 … PROGRESSIVE ROCK SECTION … UPSILON ACRUX Galapagos momentum (Cuneiform Records)
- 'Symphony of Silence', Radio Onde Furlane

"It's no surprise that San Diego's Upsilon Acrux have found their way to the Cuneiform roster; after all, the Californian quartet are one of the better domestic prog acts currently working, and Cuneiform's long been one of North America's premiere depots for the best of prog, past and present. …
Recorded in LA with Jay Pellicci, Galapagos Momentum is the smoothest of Upsilon Acrux's efforts, both in songwriting and in production. … The fidelity of Galapagos Momentum is clean and clear, offering a sonic experience as yet unattained in Upsilon Acrux's label-hopping discography in tandem with forty minutes of music that constitutes the band's best effort to date. Melodies abound amidst the cleverly tangled musical lines…Paul Lai and company infuse their compositions with enough slivers of charm as to offset the rather perplexing algebra that usually constitutes the arc of their songwriting. …Upsilon Acrux have comfortably loosed themselves from the moors of their forefathers… Nintendo soundtracks seem as salient an influence as anything perpetrated by the likes of Henry Cow, King Crimson, or Magma. This is still unquestionably prog, however, and some of the best contemporary music made of the ilk. …Upsilon Acrux…will be a band indubitably worth checking out."
- Adam Strohm, FakeJazz.com, July 08, 2007, www.fakejazz.com


"Organ top 50 albums of the year - the list is up… [#]2: UPSILON ACRUX - Galapagos Momentum (Cuneiform)"
- Organ, December 17, 2007, www.organart.com


"… Accurately described in the promo blurb as 'aggressive, intricate, athletic, complex and composed post-punk, instrumental rock', they…take a variety of influences - a handful would include (fellow post-rock instrumentalists) Don Caballero, Neu, Magma, The Mahavishnu Orchestra and King Crimson…yet manage to integrate them into a sound which is easily identifiable as their own.
The opening track, the catchily-titled Who's Running Shit (Son Of Destiny's Child), sets the tone for the album; initially very frenetic, with lots of shifts in tempo (predominantly fast!) and time signatures, complex rhythms and chord structures the order of the day - the band may revisit certain melodies and rhythms throughout a song but are never content to stand still. Somehow they manage to give the impression of both being able to lock into an almost impossibly tight groove whilst simultaneously being on the verge of chaos - in this, you can see both the influences of modern jazz and punk/ hardcore…
…when guitarist Paul Lai is given room to express himself at a more leisurely pace, such as with his adventurous yet languorous playing on the likes of Expiration Date and Hiking Up Feel Good Mountain bringing to mind fellow US avant-garde post-rockers Tortoise circa their late 90's incarnation.
Overall this is at the very least a refreshingly original listen…and those into the avant-garde, edgy side of post-rock could do worse than to investigate further."
- Tom De Val, Dutch Progressive Rock Page, 2008, Volume 12, www.dprp.net


"For those who think that Progressive Music is for old lads, you should pay better attention… Avantgarde Progressive Music is one of the most controversial sub-genres of Prog. … This Post-Punk movement is…dominated by really young bands. …Cuneiform Records…are trying their best to show these bands to the world and recently signed with Upsilon Acrux. … "Galapagos Momentum" is their fifth studio album… WHO'S RUNNING SHIT (SON OF DESTINY'S CHILD) features a raw, intricate and somehow complex rhythmic game, showing some flashes of earlier King Crimson on acid! … This track, as most of the album, doesn't stick to a pattern for more than 30 seconds… be prepared to let the music guide you through an intense journey! PETROVICH follows…complete but controlled madness! Sometimes the music seems to be too much ruled by maths but then you'll find them doing the most crazy improvisation…guided by their own feelings. …This album took two days to record so now you may guess how raw the overall sound is. …no major effects and production artifacts. … They play great…"
- Spulit, Prog-PT, September 12, 2007


"…this very disciplined combo. …are comparable to bands like The Flying Luttenbachers and Ahleuchatistas: bands that try to combine the energy and directness of punk with the compositional complexity and technical ability that we find in progressive and metal music. …they are also closely linked to postrock guitarbands. … All 10 pieces on this CD are very speed-driven exercises and highly complex compositions with many breaks and twists. Sometimes we hear echoes of Beefheart, at other moments they recall the spirit of King Crimson. Listening to this album it is impossible not to be impressed by their discplined and athletic playing. With incredible polyrhythmic structures, unison playing at moments, etc., they play some very powerful music…."
- Dolf Mulder, VITAL WEEKLY, number 602, week 47
VOLUCRIS AVIS DIRAE-ARUM
LP: EPICENE / CD PLANARIA, 2004
[ Lineup: Jesse Appelhans (drums); Derek Burns (drums); Eric Kiersnowski (bass); Nick Lejejs (moogs); Paul Lai (guitar) ]
"Upsilon Acrux makes some of the most detailed compositions I have ever heard." - Nels Cline
"The complex time signatures and breakneck tempo changes one might expect haven't been abandoned by the group…but Volucris Avis Dirae-Arum relies on more than these jaw-dropping pyrotechnics to be successful. …the quintet still have the ability to make instrumental music interesting at any speed. It's Upsilon Acrux's songwriting that sets them apart, not flashy instrumentalism or fiery bombast. An impressive cover of Goblin's "Night of the Goblin," is a great link between the past and the present, and the stereo split of drummers Derek Bruns and Jesse Klecker is another novel attractor.
The band's self-termed "maximalist" aesthetic has reached its fruition on Volucris Avis Dirae-Arum. It's tastefully done, without heavy-handed resurrection of the more clichéd fragments of prog's past."
- Adam Strohm, Dusted, 10/11/04, www.dustedmagazine.com


"…your first take on this fourth album by San Diego's five-piece Upsilon Acrux will leave you speechless. The opener Oaxaca shows from the beginning that instead of just being another instrumental math band, the smart-assed use of Seventies moog keyboards and two drummers…add a welcome note of fun to their otherwise ultra-progressive…music.
With a former album called In The Acrux Of The Upsilon King, a King Crimson influence is more than natural, although the overall angularity reminds much stronger of early Henry Cow and subsequent R.I.O. followers. …
… In fact Volucris Avis Dirae-Arum is the album Henry Cow might have recorded, had they been founded in this millennium, and their refusal to improvise plus the not too long running time make this a perfect entry point into modern complex music. Technically brilliant, rhythmically unbelievable, with just the right amount of melody…"
- Disagreement.net, www.disagreement.net
-
LAST TRAIN OUT
HACTIVIST, 2001
[ Lineup: Jesse Klecker (drums); Paul Lai (guitar); Cameron Presley (guitar) Guest Musicians: Eric Kiersnowski (bass); Muir Tennerstet (bass); Bob Bruno (bass); Nick Lejejs (moogs) ]
"Last Train Out, Upsilon Acrux's third installment of knotty, angular prog rock, clocks in at 34 minutes but is filled with enough ideas to easily flesh out a CD twice that length. The focus here is on composition rather than improvisation…with the band pushing at the limits of what a rock band can do with drums, electric guitars, bass, and some keyboards (though they're used less here than on previous releases). Tracks…further establish Upsilon Acrux's complex, spastic, yet robotic style as something distinct from its varied…and showcase the band's interplay with its best stop-on-a-dime tightness. Meanwhile, the quieter, yet still challenging "Propeller," with its studiously interwoven guitar/harmonics display, finds the band carving out new sonic territory for itself. This is an impressive release…far from pop music, and is…recommended to serious-minded listeners. 4 STARS"
- William York, All Music Guide, www.allmusic.com


"…a truly unique brand of sonic disruption that's ahead of its time? Welcome to the world of…Upsilon Acrux.
…Lai and Presley spin sprawling webs of guitar notes, while each retains a distinct instrumental tone. The mind-boggling Jesse Klecker hunches behind his fluted North drums, alternating between steady rhythms and breathtaking rolls, mixing an awesome rhythmic potion that's somewhere in between fusion and free jazz.
… Last Train Out is the group's most dynamic release to date, and it finds the Upsilon team at a crux (no pun intended) of its career. Unlike many avant-garde and progressive outfits, Upsilon Acrux breaches the realms of improvised eccentricity, administering stimulating tunes that are accessible to curiosity seekers and experimental fanatics alike. …"
- Andrew Magilow, Splendid, 1/22/02, www.splendidezine.com
THE LAST PIRATES OF UPSILON
WIN, 1999
[ Lineup: Josh Quon (bass, keyboard, drums, sax); Cameron Presley (guitar, keyboard, clarinet); Jesse Klecker (drums; noise); Paul Lai (guitar, moog, sax) ]
"Upsilon Acrux is Amazzzzzzzzing." - Thurston Moore
"Last Pirates of Upsilon is another dense display of tight musicianship and original, uncompromising musical ideas from these brainy L.A. post-prog rockers. Here, the band plows through the difficult, unevenly cyclic rhythms of brief, tightly composed workouts…with great intensity and precision, leaving little breathing room… Other tracks…allow for more room to stretch out, juxtaposing noisy free-improv with moments of more structured interplay as well as some fully composed parts. Bringing together the more abstract, rhythmically dense aspects of '70s prog (such as King Crimson with a robotic, angular feel reminiscent of much late '70s/early '80s no-wave, Last Pirates… is both cerebral and physical at once. …those interested in "progressive rock" as an ideal rather than a time-locked style will want to check it out. 3 STARS"
- William York, All Music Guide, www.allmusic.com
"…This group of mutant, spasmodic avant-garde jazz rockers… mashes a frenzied-sounding Borbetomagus and a classic Ornette Coleman free-jazz approach into a collectively offensive-yet-powerful musical force… And while Upsilon Acrux thrive on the unexpected twists and turns of experimental music, there's a readily apparent method to the band's output, as a subtle yet confident mood pervades. The only thing that can be expected from these San Diegans is the unexpected, as it's anyone's guess as to what happens when "propeller guitars," pocket trumpets and violas collide! …any band where the innocuous sounding "ambient-destructo-bass" is credited as an instrument had better deliver the goods, and Upsilon Acrux do just that, in an inspiring and exhilarating fashion."
- Andrew Magilow, Splendid, www.splendidezine.com
-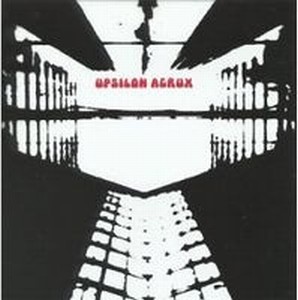 IN THE ACRUX OF THE UPSILON KING
ACCRETIONS, 1999
[ Lineup: Muir Tennerstet (bass, keyboard); Cameron Presley (guitar, keyboard, clarinet); Jesse Klecker (drums); Paul Lai (guitar, moog, soprano sax) ]
"…free jazz and hardcore fusion dominated by an astonishing kind of Splatter Prog… inexhaustible musical invention …"
- The Wire
"…Combining great technical ability and psychedelic know-how, tightly-syncopated compositions and improvisation, the group burns it up heavily and intensely with the likes of Triple 0, Zorn's Painkiller, Zappa, Beefheart, Guru Guru, mad free-bop jazzers, '70s avant-proggers and who knows what other crazy cats. …"
- Aural Innovations, #18, Jan. 2002
-
FEATURES & INTERVIEWS:
"Beyond the museums of the mighty Sunset (and its tributaries) lurks Upsilon Acrux and the theoretical possibilities of rock 'without all the bullshit repetition'...
If there's a prototypical Smell band…it's Upsilon Acrux, "brute prog" artisans who fuse the junk parts and crazed imaginations of the venue's art-noize aesthetic into tight precision-instrumental rock like Booker T. and the MGs let loose in King Crimson's back catalog. …their incendiary Volucris Avis Dirae-Arum… [was] built around the clockwork smash of two drummers, with short Uzi-bursts of guitar and Moog lines coruscating around the stop-and-start din.
The follow-up, Galapagos Momentum, came four years later... on Cuneiform Records…the album is a masterpiece of proggy density and Stax-Volt compression. Losing a drummer made the rhythms less busy, while the guitar lines are sharper and more aggressive, recalling Vini Reilly's ethereal breaks on the 1979 post-punk milestone The Return of the Durutti Column.
Just don't call it "avant" or "experimental." "We're now a more straightforward type of rock band," says Paul Lai, "It's like metal and rubber - we've just enough melody to give a grip. … We're what rock would theoretically sound like without all the bullshit repetition."
… during the Smell's weeklong anniversary festivities…patrons stood sopping and enchanted by the band's aloof professionalism and headlong attack. UA is looser and bluesier than before, but the refusal to truckle to indie neurosis or catchpenny pop lends their live act a ferocity that shreds the easy critical equation of skill with subtlety.
"This band is about no compromise," Paul is emphatic, "nobody outside this band has any say in what music we play. ..."
- RON GARMON, "Bottom of The Listings, Top of The World", NEW ANGELES, February 2008, www.newangelesmonthly.com
"Los Angeles "brutal prog" outfit Upsilon Acrux are bringing their herky-jerky instrumental prog mastery on tour. With the ridiculously good new album Galapagos Momentum out now on Cuneiform and a brand new five-man lineup, these dudes are primed to guitar tap their way into the hearts of men all across this great nation. They've also got a ton of excellent bands playing with them at various times…"
- Etan Rosenbloom, "Upsilon Acrux bring prog fever to the nation", Prefix, September 26, 2007, www.prefixmag.com

"'Ten Prog Drummers for Today'… Prog rock is alive and well, its essential sound heard in genres as diverse as progressive metal, post rock, neo progressive, future folk, and space rock. Who will lead the charge to the next heart of the sunrise? Read on.
#1. JESSE APPELHANS - Upsilon Acrux
There is no better sign of the current healthy state of prog than Upsilon Acrux. Mixing instrumental complexity within highly structured mini epics, their systems music/math rock message (heard on Galapagos Momentum) takes cues from Frank Zappa and King Crimson (and a little Phillip Glass), but with a firm garage band approach. These guys sweat and spray us with results, drummer Appelhans displaying swift finger skills and orchestrational expertise. Follow the melodies, get lost in the dizzy rhythms. …"
- Ken Micallef, "Ten Prog Drummers For Today," Modern Drummer, Oct. 2007, Vol. 31, No. 10
"Downtown L.A.'s own citadel of skronk, the Smell lurks beneath faded purple neon down a dubious alleyway … this all-ages venue is a Phil Dickian electric dream of a 21st-century punk rock hangout, except that the music is punk only by DIY courtesy.The venue hosts the oddball and compelling. From the brute prog of Upsilon Acrux to Captain Ahab's gelid dance-synth grooves to the lofty waif-pop of Hello Astronaut, Goodby Television, the acts navigate eccentric rivulets far outside the commercial mainstream. …"
- Ron Garmon, "For the Love of Music: Scenes", UTNE Reader, March 1, 2008, www.utne.com

"…if you're one of that growing segment of music fans who find themselves disenchanted with the constant indie-rock regurgitation cycle, the members of Upsilon Acrux welcome you with open arms and a whole lot of guitar tapping.
Building on the inventions of defiantly non-commercial acts of yore such as Magma and Henry Cow, this Los Angeles four-piece creates a dizzyingly complex variant of instrumental prog-rock, heavy on polyphony, dissonance and unexpected time and tempo changes. As difficult as the music can be, Upsilon Acrux is going places: The band recently attracted the attention of Cuneiform Records, perhaps the most important haven for contemporary progressive music. …"
- Etan Rosenbloom, "Mapping the path to obscurity", Prefix Magazine, October 18, 2006
Quotes from Upsilon Acrux's Paul Lai, excerpted from Etan Rosenbloom's "Mapping the path to obscurity" in Prefix Magazine, October 18, 2006:
"We feel 7/4 the way that most people feel a 4/4 pocket. It's just a downbeat -- it's like you wanna rock, but so much shit is rocked in 4. And it's rad. But I can't do that shit again -- I'd like to hear something else. That's why I like Meshuggah and other bands that step out of the standard time signatures."
"…we are a rock band, we just try not to do typical things. We listen to enough music, we're big enough music geeks, that we wouldn't want to play something cool that had already been done by ten thousand bands. It works in music and it works in art: If you have something to say, then say it in your own way. If you don't have anything to say, shut the fuck up, go home and be a consumer. … Most bands these days sound like they're working at Kinko's, just carbon copies of other bands. …
… Ultimately, I'm looking for singularity. We strive for unprecedented music. …"
"…I think Faust, especially, is one of the most creative bands ever: You can't really pinpoint what they exactly do. That's what all bands should strive for, creativity above genres or styles. It should be about trying to be as creative possible. … If you're not reaching out to someone, creating a personal bridge with lyrics and vocals,…then you should be insanely creative in a completely different way. "
"… Be true to yourself, and if you want to do something creative or do something public, try to be singular, try to do something nobody else has done."
**********************************************************
Albums on Cuneiform:


RADIAN FUTURA
***Just Released***
[Cuneiform 2009]
Listen to "Landscape With Gun and Chandelier":

[MP3]
"...Onetime adornment of the San Diego maximalist movement of the late 1990s, Upsilon Acrux represents guitarist...Paul Lai's admirable and altogether successful attempt to be the one-man Henry Cow of his generation"
- Ron Garmon, LA Record
-

GALAPAGOS MOMENTUM
[Cuneiform 2007]
Listen to "So Thereby...And Therefore...Thus Henceforth... Mono":

[ram]
"...Galapagos Momentum can go toe to toe with Sleeping people, Zs and Ahleuchatistas in terms of the complexity of the material. But despite all the unpredictable switches between harmoney and dissonance, space and clutter, groove and antigroove, Upsilon Acrux wants to connect..."
- Etan Rosenbloom, Prefix
"...These sonic outbursts are the aural equivalent of a double helix: complex, well-constructed, essential."
- Michael Roberts, Denver Westword
"...Upsilon Acrux's Musicianship, craft and technique is of the highest order, belying the casual, but energized, almostgarage-band sound and attitude..."
- Dean Suzuki, Progression
Albums on other labels:

Volucris Avis Dirar-Arum
[LP Epicene / CD Planaria 2004]

"An impressive cover of Goblin's "Night of the Goblin," is a great link between the past and the present, and the stereo split of drummers Derek Bruns and Jesse Klecker is another novel attractor."
- Adam Strohm, Dusted
-

LAST TRAIN OUT
[HACTIVIST 2001]

"The focus here is on composition rather than improvisation…with the band pushing at the limits of what a rock band can do with drums, electric guitars, bass, and some keyboards."
- William York, All Music Guide
-

THE LAST PIRATES OF UPSILON
[WIN 1999]

"And while Upsilon Acrux thrive on the unexpected twists and turns of experimental music, there's a readily apparent method to the band's output, as a subtle yet confident mood pervades."
- Andrew Magilow, Splendid
-

IN THE ACRUX OF THE UPSILON KING
[ACCRETIONS 1999]

"…free jazz and hardcore fusion dominated by an astonishing kind of Splatter Prog…inexhaustible musical invention…"
- The Wire
* * * *
CONTACT INFORMATION:
For more information on Upsilon Acrux releases on Cuneiform or to book a phone/email interview, please contact:
Joyce at joyce@cuneiformrecords.com
phone: 301-589-8894
fax: 301-589-1819

To book a future show with Upsilon Acrux, please contact:
Paul Lai at echoparkcrack@yahoo.com and
Chris Meszler at cmeszler@gmail.com