"touchstone for a next generation of abstract noisemakers"
-All Music Guide

ARichard Pinhas
manning the sonic frontline spring/summer 2013
French avant-garde guitarist, electronic music pioneer (Heldon), ceaseless sonic innovator & polymath (philosophy PhD / author / editor of webdeleuze.com)
releases a new album on Cuneiform, tours Japan & performs worldwide

sonic frontline: worldwide
- a new album on Cuneiform: -
Desolation Row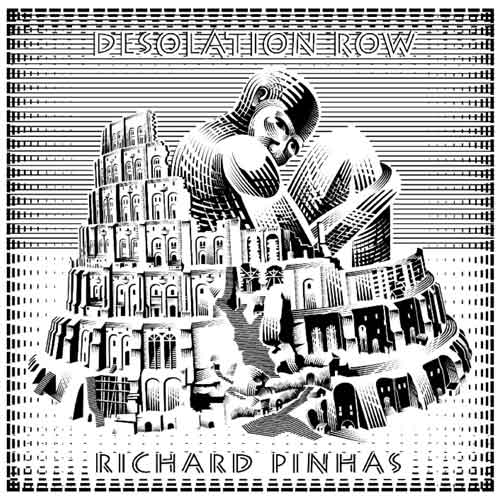 A politically-charged, musically radical & artistically potent
sonic response to the 21st century global economic crisis & socio-political unrest.
album details: click here or scroll


sonic frontline: East
- a tour of Japan -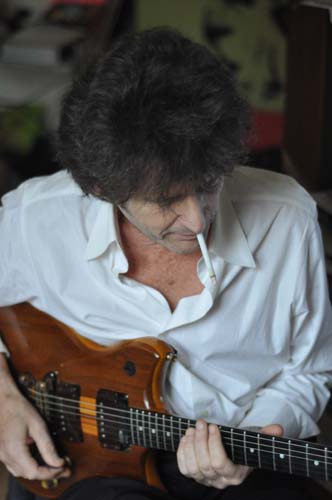 May 30-June 9, 2013
including
• concert at Insitute Francais with noise artist Merzbow,
• Tokyo, Nagoya, & Osaka shows
with Merzbow, Tatsuya Yoshida, Ono Ryoko, Korekyojinn, & Yamamoto Seiichi,
• recording with Tatsuya Yoshida and Merzbow
tour details: click here or scroll


sonic frontline: West
- a performance at Sonar 2013, Barcelona -



in duo with Pascal Comelade
Sonar Festival of Advanced Music & New Media Art
June 13, 2013
festival details: click here or scroll


----
RICHARD PINHAS,
French Composer, Guitarist and Electronics Innovator
Releases New Album, 'Desolation Row', May 21, 2013 on Cuneiform Records with Japanese Tour to Follow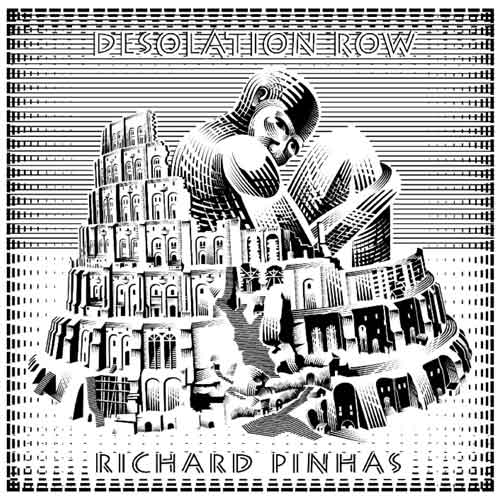 RICHARD PINHAS - DESOLATION ROW
Street date: May 21, 2013
Format(s): CD / DIGITAL (MP3, FLAC, +)

PROMOTIONAL TRACK: "Circle"
STREAM: @SoundCloud - @BandCamp

TRACKLISTING:

1. NORTH (16:20)
2. SQUARE (8:49)
3. SOUTH (8:55)
4. MOOG (18:31)
5. CIRCLE (8:38)
6. DRONE 1 (16:28)

Musicians
Oren AMBARCHI - Drum, Guitar and ElectroniX

Lasse MARHAUG - ElectroniX and NoiZ

Duncan NILSSON - ElectroniX and NoiZ

Etienne JAUMET - Analog Synths and Saxophone

Noel AKCHOTÉ - Stereo GuitarZ

Eric BORELVA - DrumZ

Richard PINHAS - Guitar and ElectroniX
"The big crisis is coming now in Europe," says avant-rock icon and philosophy PhD/writer Richard Pinhas. "Desolation Row is an image of what we can Feel and See coming during this neoliberalist era... neoliberalism transforming ultimately into TEKNOFASCISM...the real Big Brother!" Morally outraged by the corporate greed that caused Europe's (and America's) 21st century economic collapse, shattering the public's (the 99%) wellbeing and undermining democracy itself, Desolation Row finds Pinhas returning to his philosophical and artistic roots and resuming his stance behind political barricades. His newest solo album is as politically charged, musically radical and artistically potent as those he created with his band Heldon during a prior era of socio-political change. While a young student at the Sorbonne, studying under French philosopher Gilles Deleuze, Pinhas had manned the Paris barricades during the May 1968 student uprising. Experiences from those years would infuse his later work, in a music career launched in 1974 when Heldon released its debut recording, Electronique Guerilla. 40 years later, the original Electronique Guerilla re-arms himself with guitar and electronics as weapons in a stance against Teknofascism. Says Pinhas of Desolation Row: "Music is a way to fight...and to bring weapons to people, to make them feel outside of their servitude, and perhaps to make them happy, even for one minute...a way to fight THE POWER!"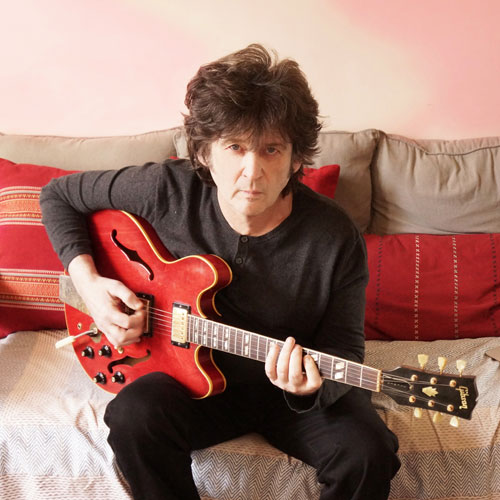 But beyond marking his return to political fire, Desolation Row finds things coming full-circle for Pinhas in other ways. In a career spanning more than 4 decades, pathfinder Richard Pinhas has remained continually innovative, pioneering groundbreaking developments in electronic rock and industrial music and influencing generations of musicians. In a major creative surge over the past several years, he has released numerous recordings - many of them double-disc releases - in collaboration with noise and experimental musicians, breaking further sonic ground. Desolation Row finds Pinhas collaborating with those he has directly or indirectly inspired and influenced, with the results in a class by themselves. While his roots are in progressive rock, electronic music, philosophy, and science fiction/literature, Desolation Row finds guitarist/composer Pinhas in the company of some of Europe's cutting-edge performers in the frequently-overlapping spheres of jazz, progressive rock, free improvisation, and noise — Oren Ambarchi, Lasse Marhaug, Etienne Jaumet, Noel Akchote, Eric Borelva, and his son, Duncan Nilsson — engaging in a series of six distinct works which stimulate and push all concerned through and beyond their comfort zones. Desolation Row is a work that stands both with and apart from the respective oeuvres of its principals. The continually evolving Pinhas reaches ever-newer artistic vistas - and draws attention to Europe's sociological, political, and economic turmoil on Desolation Row.
JAPANESE TOUR
May 30


Tokyo,
Japan

Super Deluxe
3-1-25 B1F
Nishiazabu, Minato
Tokyo 106-0031, Japan
tel.03-5412-0515
https://www.super-deluxe.com/

Richard Pinhas
with Haino Keiji (gtr), Merzbow (electronics) Yoshida Tatsuya (dr)

open 19:00, start 19:30
advance 3300yen / door 3800 yen (+1drink order)
May 31


Tokyo,
Japan

Institut Fançais du Japon : Tokyo
15 Ichigaya-Funagawara-cho, Shinjuku-ku - Tokyo 162-8415, Japan

Richard Pinhas
with Merzbow

(free admission!)

June 2

Tokyo,
Japan

Tower Records
Central Shibuya
Tokyo, Japan


Richard Pinhas
short 'demo' concert + meet and greet / autograph session

(free admission)

June 4

Osaka,
Japan

Club Conpass
Shikishima Bldg. B1F, 1-12-20 Higashisinsaibashi Cyuo-ku, Osaka-shi Osaka, Japan

http://conpass.jp/ tel.06-6243-1666

Richard Pinhas
with Yamamoto Seiichi (gtr), Yoshida Tatsuya (dr)

open 1830 / start 19:30
advance 3000yen / door 3500yen (+1drink order)

June 5

Nagoya,
Japan

Tokuzo
2F BlueStar Building 1-6-8 Imakike Chikusa Nagoya 464-0850, Japan

http://www.tokuzo.com/ tel.052-733-3709

Richard Pinhas
with Ono Ryoko (sax), Yoshida Tatsuya (dr)
June 6
Tokyo,
Japan
Club Goodman
A.S Building B1F, 55, Kanda-Sakumagashi, Chiyodaku, Tokyo, Japan

http://clubgoodman.com/ tel.03-3862-9010

Richard Pinhas
with Merzbow (electronics), Yoshida Tatsuya (dr)

open19:00 / start19:30
advance 3000yen / door 3500yen (+1drink order)

June 9
Tokyo,
Japan
Pit Inn
2-12-4 Shinjuku B1 fl, Accord Shinjuku Bldg, Tokyo, Japan
Richard Pinhas
with Yoshida Tatsuya and RUINS ALONE!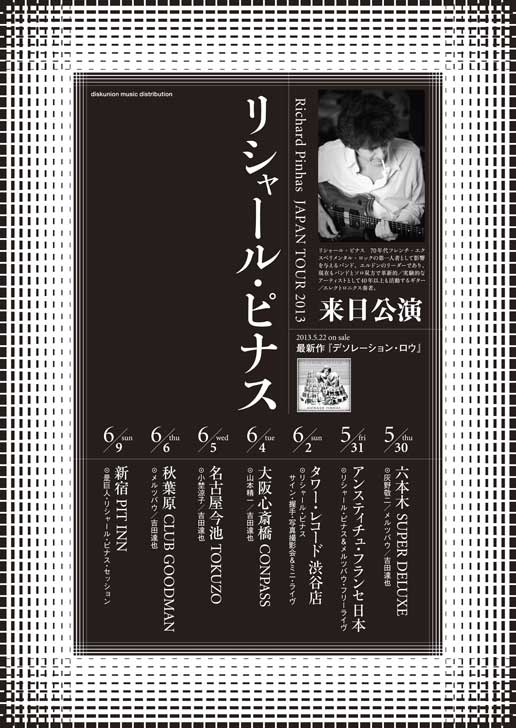 June 13
Barcelona,
Spain
SONAR Festival by Day
Avinguda Reina Maria Cristina
s/n 08004
Barcelona, Spain
Richard Pinhas
with Pascal Comelade
SHOW UPDATES:
For show updates, please visit:
www.cuneiformrecords.com/tours.html
Richard Pinhas is recognized as one of France's major experimental musicians. A composer, guitarist and electronics innovator, he is a key figure in the international development of electronic rock music. During the 1970s, his stature in France was analogous to Tangerine Dream's in Germany: the father figure of an entire musical movement. His band Heldon fused electronics, "diabolical guitar work" and rock to create a pioneering, aggressive music that was a precursor to the industrial music and techno to come. Pinhas released 7 groundbreaking, critically-acclaimed albums with Heldon during the 70s, and has released a steady stream of solo projects to the present day. Ceaselessly innovative, Pinhas' later solo guitar and electronics "Metatronics" system expanded the limits of Robert Fripps' Frippertonics.All of Pinhas solo projects and Heldon recordings are reissued and/or released on Cuneiform, which has worked with Pinhas since 1991. Heldon's music remains vital and unsurpassed today, evident in its worldwide revival among a younger generation. New electronic and digital artists and DJs are emulating Pinhas' early work and incorporating it into their own. Heldon tracks have been sampled in recent years by UNKLE (Never, Never, Land, Island, 2003) and legendary electronic artist Bill Laswell (for a CD with Peter Namlook) and have been included in a DJ compilation by Four Tet (DJ-Kicks, !K7, 2006). In recent years, Pinhas has begun recording and performing with some of the most prominent artists on the international noise scene. The Cuneiform label has released all of his recordings with Merzbow, and one with contirubutions by Wolf Eyes. In 2010, he and Merzbow performed at the 10th anniversary of the Sonic Circuits Festival, Washington DC's premiere festival of experimental music. In addition to his musical career, Pinhas-who has a PhD in philosophy from the Sorbonne-runs webdeleuze and has written/edited several books on the late French philospher Gilles Deleuze, his friend and former mentor.
CUNEIFORM RECORDS is honored to have released and/or reissued the complete RICHARD PINHAS and HELDON catalogs as well as the collaborative PINHAS/MERZBOW albums. For more information on any of these titles and more, click on any cover below: