Dear friends in Press and Radio,
On December 2nd and 10th, the Microscopic Septet will perform two live concerts in New York City to support its new Cuneiform release, Friday the 13th: The Micros Play Monk. Don't miss your opportunity to see this amazing (and amusing) jazz group in action. The Micros are co-led by composer/ arranger/ saxophonist Phillip Johnston & composer/ arranger/ pianist Joel Forrester, who may well be the most talented composer/arranger team in contemporary American jazz.

In addition to these 2010 shows, the Microscopic Septet is currently planning a Summer 2011 tour that will include shows in the USA and Europe. If you'd like to schedule a 2011 concert with the band, please contact Cuneiform for more information. -Joyce

PRESS & RADIO

If you'd like:
--to see and/or review one of the Micros' shows

and/or

-- to set up an interview in NYC with the Micros' co-leaders and co-composers, Phillip Johnston and/or Joel Forrester

and/or

-for a promo copy (digital or physical) of the album Friday the 13th: The Micros Play Monk
then please contact: Joyce @ cuneiform
Snail-mail:
P.O. Box 8427
Silver Spring, MD
20910
DECEMBER 2010 LIVE PERFORMANCES BY
-= THE MICROSCOPIC SEPTET=-


RADIO PERFORMANCES
on-air & online

Wednesday Dec. 1, 2010:
WNYC "Sound Check" with John Schaefer
LIVE PERFORMANCE on WNYC 93.9FM
December 1, 2010 @ 2PM (Rebroadcast @ 10PM)
The Microscopic Septet will be performing live on WNYC-FM's 'Sound Check' with John Schaefer tomorrow, Wednesday at 2PM (and rebroadcast at 10PM) on 93.9FM. It will also be archived online. http://www.wnyc.org/shows/soundcheck/
Tuesday, Dec. 7, 2010:
WBGO "The Checkout" with Joshua Jackson
MICROSCOPIC SEPTET FEATURE/PERFORMANCE on WBGO 88.3FM
December 7, 2010 @ 6:30PM
Josh Jackson invites the Microscopic Septet to join him "The Checkout". This show will be aired on Tuesday, December 7th at 6:30pm. Listen in the NYC area on 88.3FM or online at http://www.wbgo.org/
An archive of the show will be available on http://www.checkoutjazz.org

-

CLICK HERE to check out a past Micros radio feature on NPR'S "FRESH AIR w/ TERRY GROSS"
discussing the group's reunion and retrospective discs.

*********


CLUB PERFORMANCES in NYC
[The Micros' CD Launch Gigs for
FRIDAY THE 13TH]

December 2, 2010 @ 6PM-7:30PM
The Microscopic Septet perform a single set.
Birdland
315 W 44th St
New York, NY 10036
phone (212) 581-3080 
Price: $20 (in advance or at door)


December 11, 2010 @ 8PM
The Microscopic Septet perform two sets (at least!)
The Hotel Gershwin
7 E. 27th St
New York, NY 10016
phone (212) 545-8000
Price: $25 at door (no advance sales)


ALSO...
PHILLIP JOHNSTON PERFORMS WITH THE SPOKES
The Spokes
December 2, 2010 @ 8PM
Barbes
376 9th Street
Brooklyn, NY 11215
phone: (347) 422-0248
Price: $10

If you would like to schedule an on-air performance, concert or interview with Joel Forrester/Phillip Johnston, contact Joyce:
phone: 301-589-8894
email: joyce@cuneiformrecords.com.

:: VISIT THE MICROSCOPIC SEPTET ONLINE ::

www.myspace.com/themicroscopicseptet
www.facebook.com/pages/The-Microscopic-Septet/141302269231668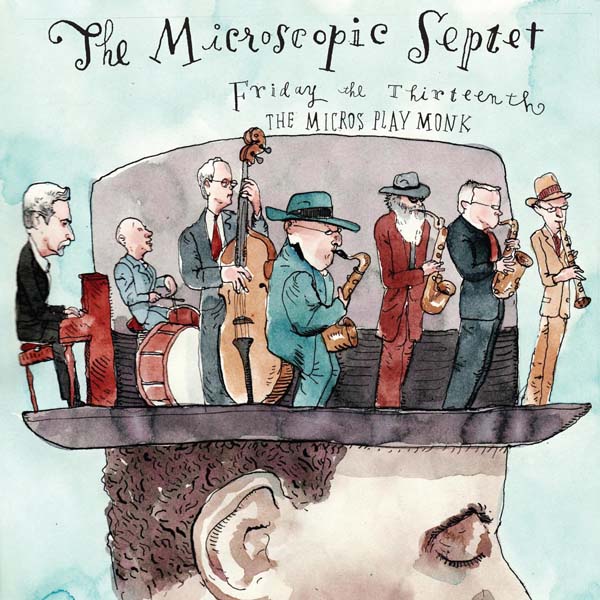 "If the Micros have a spiritual beacon, it's Thelonious Monk. Like the maverick bebop pianist, they persevere...  Their expanding core audience thrives on the group's impeccable arrangements, terse, angular solos, and devil-may-care attitude. But Monk and the Micros have something else in common as well.
Johnston tells a story: "Someone once walked up to Monk and said, "You know, Monk, people are laughing at your music.' Monk replied, 'Let 'em laugh. People need to laugh a little more."
– Richard Gehr, Newsday, New York 1989 
"There is immense power and careful logic in the music of Thelonious Sphere Monk. But you might have such a good time listening to it that you might not even notice. …His tunes… warmed the heart with their odd angles and bright colors. …he knew exactly how to make you feel good…  The groove was paramount: When you're swinging, swing some more," he'd say. ."
– Vijay Iyer, "Ode to a Sphere," JazzTimes, 2010
The late jazz composer and pianist Thelonious Sphere Monk (1917-82) is one of the top creative deities  in the pantheon of American Jazz Greats.  He is one of jazz's greatest composers; Penguin Guide to Jazz  notes that Monk's  "output ranks with that of Morton and Ellington." Monk's tunes, once considered radical and appreciated by only a small cognoscenti, are now beloved standards, and may well be the most frequently covered jazz tunes on recordings.  His creative brilliance continues to resonate over time; a surge of interest in the composer this year has led 2010 to be called "the Year of the Monk."
The music of Thelonious Monk, as it escaped the windows of a Downtown New York apartment, was the catalyst that sparked the creation of one of New York's most legendary and important jazz groups, the Microscopic Septet. Since it was founded in 1980, under the co-leadership and co-compostional duties of soprano saxophonist and composer Phillip Johnston and pianist and composer  Joel Forrester, "the Micros" have been  responsible for creating some of the most captivating and memorable original tunes and performing some of the most entertaining shows in the past 40 years of American jazz. In 1974, the Monk tune: "Well You Needn't" first brought the future Micros co-leaders together by chance.  Johnston was living in the Bowery at the time, and Forrester, hearing music, barged into his apartment, unannounced: "I was playing a Thelonious Monk tune, and a guy I had never seen before came walking through my door, which wasn't locked- those were the hippie days…" The encounter sparked a friendship and working relationship, in which Monk's music reverberated on  multiple levels across the years.  Another chance encounter – at chicken and ribs place West Boondock, following his performance of Monk's "Pannonica" on the restaurant's piano – forged Forrester's friendship with the Baroness Pannonica de Koenigswarter. And through the Baroness, Forrester would ultimately meet and periodically play piano for Monk.
Since Johnston and Forrester's first meeting, Monk's music  has remained an inspiration and guiding light throughout their music careers –  and across more than 4-decades. In addition to creating and playing their own music, they always played Monk's music: as a duo, in Forrester's quartets and large groups, and, from the band's very beginning in 1980, with the Microscopic Septet. Micros gigs always included  their arrangements of Monk tunes, but due to the Micros' limited number of releases (5 albums) and  their copious original songbook (more than 180 tunes), they only previously recorded Forrester's arrangement  of  Monk's 'Crepuscle For Nellie.'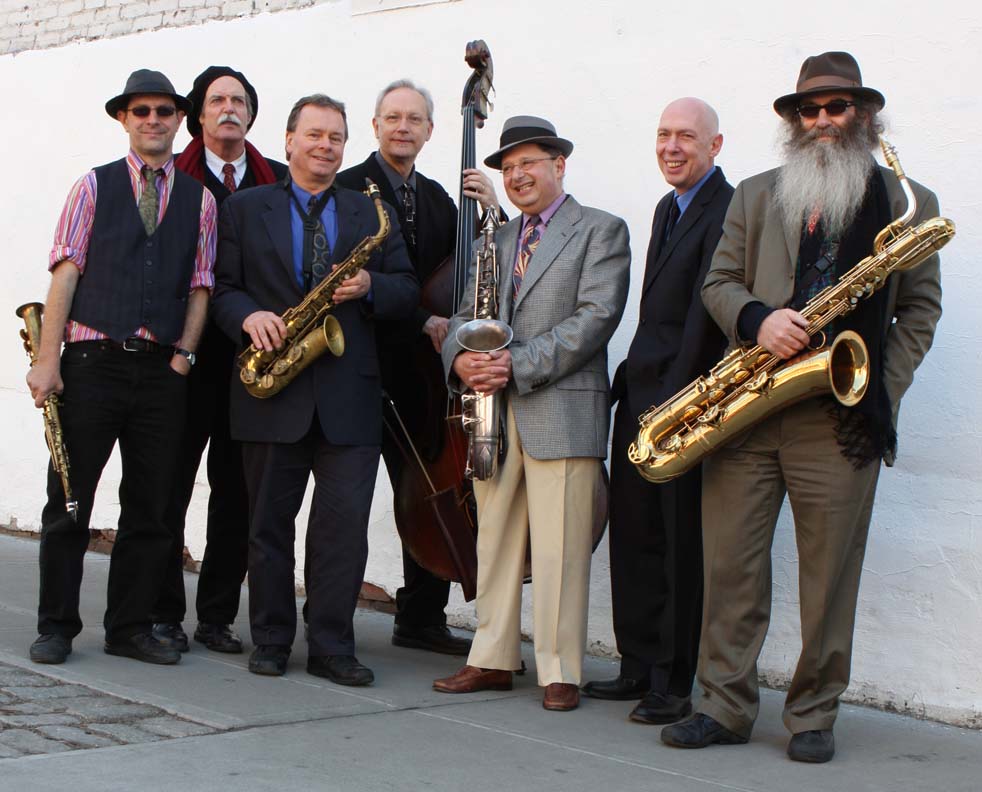 [L-R: Phillip Johnston, Joel Forrester, Don Davis, Dave Hofstra, Mike Hashim, Richard Dworkin, Dave Sewelson]
The new Micros CD released on Cuneiform, Friday The 13th: The Micros Play Monk rectifies this omission. Featuring original arrangements of 12 Monk tunes, half from "back in the day" and half newly-written for this recording,  the Microscopic Septet make clear their line of descent from Monk.  The humor and angularity of Monk's compositions mesh easily and joyfully with the elaboration and juxtaposition  of the Micros-style arranging.   Definitively not a dry deconstruction, this is a true celebration of  Monk by a group that can arguably be called his most sensitive and sensational heirs.
Featuring gorgeous art work by New Yorker artist Barry Blitt – the man responsible for the infamous and controversial "Michelle and Barack 'fist-bump'" cover and other contentious-yet-humorous artwork- and liner notes by jazz critic and long-time Micros fan Peter Keepnews, Friday the 13th is surprising yet inevitable: a long overdue party with the master, at which The Micros Play Monk.
Friday the 13th  arrives amidst a perfect storm of works in multiple media devoted to or about Monk. Dubbed by Jazz Times as 'Year of the Monk', 2010 has thus far witnessed  a biographical book on Monk by Robin Kelley, a documentary film on Monk's patron and friend Pannonica, called The Jazz Baroness, and several CDs of Monk tunes by various musicians.  Transcending mere tribute, the Microscopic Septet's Friday the 13th distills Monk's heady and humoorous essence, revives his iconoclastic spirit, and revels in, and with, the creative compositions of Monk.
FOR MORE INFORMATION ON THE MICROSCOPIC SEPTET, SEE:
www.myspace.com/themicroscopicseptet
__
WHAT THE PRESS IS SAYING ABOUT
FRIDAY THE 13TH: THE MICROS PLAY MONK:
The New Yorker
•"Although the re-united eighties downtown mainstay the Microscopic Septet features two exceptionally individualistic composers (and superb improvisors) in the pianist Joel Forrester and the soprano saxophonist Phillip Johnston, its latest album "Friday The 13th," is devoted to the music of Thelonious Monk; it is a glorious fit." - The New Yorker.
All Music Guide
• "Very few jazz composers have experienced the extremes of acceptance and rejection that were Thelonious Monk's lot. Ignored and rejected early in his career... he did at least live to see his music given the appreciation it deserved, and his work has only grown in esteem since his death in 1982. Today, his pieces are among the most frequently performed and recorded of any jazz composer; as popularity among musicians goes, his music is on the same level as that of Duke Ellington and Miles Davis. The Microscopic Septet...have now dedicated an entire album to arrangements of Monk compositions... Their arrangements are innovative but respectful: they take "Brilliant Corners" and shuffle its component parts around a little bit; they write some lovely counterpoint around the head on "Friday the 13th"; they give "Gallop's Gallop" a joyfully loose, communitarian treatment that sounds a bit like the second half of a New Orleans funeral. Part of what makes the Micros' take on these familiar tunes so enjoyable is their willingness to engage with Monk's sense of humor; the "difficulty" of his music is frequently puckish rather than forbidding, and too few musicians recognize that fact or capitalize on it. The group's unusual configuration (four saxophones and a piano trio) makes possible some very interesting timbral juxtapositions, and they make the most of that potential as well. Newcomers to Monk's music should let these arrangements lead them back to the original recordings on Riverside and Blue Note; longtime fans who think they've heard every possible interesting arrangement of these tunes should think again."
–Rick Anderson, All Music Guide
http://www.allmusic.com/album/friday-the-13th-the-micros-play-monk-r1963457/review
Audiophile Audition
•"What a perfect match!: the quirky off-center music of Thelonius Monk together with the quirky off-center music of The Microscopic Septet. According to Jazz Times 2010 is "The Year of the Monk," and it turns out this CD has a very close connection to the great jazz composer-performer who the Penguin Guide to Jazz said "ranks with Morton and Ellington." ...
Now here are a dozen Monk tunes in the inimitable and unique style of the Microscopics with their sax quartet accompanied by a rhythm section. Monk and the Micros have a lot in common and it all comes out in this delightful gig. The patented odd angles and bright colors are beautifully delivered by the Septet. They get into a delicious Monk groove that's somehow better than that recorded by other more famous ensembles over the years. Not limiting themselves to familiar Monk tunes, they also dug up some rarities: Gallop's Gallop, Worry Later, and the title tune. There's a wonderful feel-good yet hip vibe about everything they do. The humorous side of Monk comes thru clearly. This is certainly not a dry re-creation of Monk."
–John Henry, Audiophile Audition, November 21, 2010
http://www.audaud.com/article.php?ArticleID=8213
A BLOG SUPREME: NPR JAZZ
•"How Do You Cover Thelonious Monk? ...
The Microscopic Sextet seems like an ensemble particularly suited to doing something smart with Monk's music. The band's original music has a certain innate whimsy, backed by serious musicianship..."Gallop's Gallop," given new life by Phillip Johnston, sports that staggered, sloppy-on-purpose drag of an introduction, then a tactful soprano sax plus snare-and-bass duet, and Joel Forrester's piano solo making sense of the madness. ...The whole thing doesn't flatten out the curves and spikes; it makes them stand out more."
–Patrick Jarenwattananon, A Blog Supreme 10/8/10
www.npr.org/blogs/ablogsupreme/2010/10/08/130443422/tell-us-what-are-your-favorite-covers-of-thelonious-monk-tunes
POINT OF DEPARTURE
•Micros on the cover in this month's Point of Departure webmag: www.pointofdeparture.org

•"What's New: POD Roundtable" interview with Phillip Johnston, Joel Forrester and Bill Shoemaker: www.pointofdeparture.org/PoD31/PoD31WhatsNew.html

•FRIDAY THE 13TH reviewed:
"There have been plenty of Monk tributes throughout the years, some worthwhile, many forgettable, but few with the intrinsic connection to the material that The Micros Play Monk exudes. Though widely revered for his harmonic and rhythmic advancements, Monk was as much an advocate of the tradition as he was an innovator. The Microscopic Septet has championed a similar inside/outside attitude for almost three decades, long may they persevere."-Troy Collins, POD www.pointofdeparture.org/PoD31/PoD31MoreMoments4.html
CLOUDS AND CLOCKS
•FRIDAY THE 13TH reviewed:
...Friday The Thirteenth is an excellent album.
...The septet works like a clock, in a territory halfway between Monk's Music and At Town Hall. All arrangements are very good: it's "Monk à la Micro", but it's never forced.
...Pannonica is performed to perfection. ...Really, really beautiful. ...
Epistrophy is the brief, good, appropriate close to this fine album." –Beppe Colli
www.cloudsandclocks.net/
www.cloudsandclocks.net/CD_reviews/microseptet_ftt_E.html