GENRE-BUSTING NEW YORKERS

G U T B U C K E T

TO TOUR EUROPE IN JANUARY 2010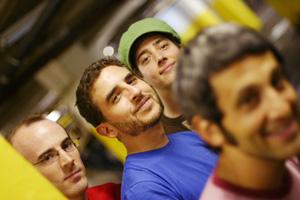 (Downtown New York punk jazzers)
[scroll down or click here for tour schedule & info]
Don't miss the chance to see the band in action: their live performances are notorious, a result of razor-sharp chops, high energy levels and lots of humor.

And don't miss the chance to INTERVIEW the USA/NYC-based band IN-PERSON while they are touring the Continent. Gutbucket is available for PRESS and RADIO interviews. Contact information can be found below.

Gutbucket's new album A MODEST PROPOSAL is out on Cuneiform Records!
*******************************
"A classic case of a band that defies categorization."
– The Washington Post
"There is something smart, sleek and assured about Gutbucket, and when they begin firing on all cylinders it makes for an exhilarating, intelligently performed racket."
– The Guardian (UK)


Gutbucket's Winter 2010 European Tour Dates:

Saturday, January 16
jazzclub minden
(http://www.jazz-minden.de/)
minden, germany

Sunday, January 17
club hanseat
(http://www.club-hanseat.de/)
salzwedel, germany

Monday, January 18
GIG
(http://www.gig-linden.de/)
hannover, germany

Tuesday, January 19
dumont
(http://www.dumont-aachen.de/)
aachen, germany

Wednesday, January 20
workshop
aachen, germany

Thursday, January 21
le triton
(http://www.letriton.com/fiches2010/0121-Gutbucket.html)
paris, france

Friday, January 22
sonic
(http://www.myspace.com/soniclyon)
lyon, france

Sunday, January 24
bee-flat in progr
(http://www.bee-flat.ch)
bern, switzerland

Tuesday, January 26
jazzclub loco @ ms stubnitz
(http://www.stubnitz.com/)
copenhagen, denmark

Wednesday, January 27
zeche carl
(http://www.zechecarl.de/)
essen, germany

Friday, January 29
tonne
(http://www.jazzclubtonne.de/?inhalt=progr_detail&id=1210)
dresden, germany

Saturday, January 30
stellwerk
(http://www.stellwerk-hamburg.de/)
hamburg, germany

Wednesday, February 3
tel aviv jazz festival
(http://www.jazzfest.co.il/english//wensday.html)
tel aviv, israel

For show updates, please visit:

www.gutweb.com

www.myspace.com/gutbucket

www.cuneiformrecords.com/tours.html


If you would like to request an in-person, phone or email INTERVIEW with the band while on tour, please contact Joyce @ Cuneiform: joyce@cuneiformrecords.com & the band: gutbucket@gutweb.com
The band may also be available for RADIO INTERVIEWS as well.


*******************************
About GUTBUCKET: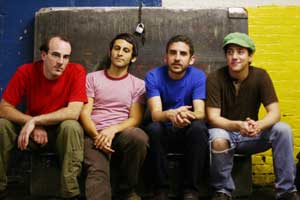 Destroying walls between art-rock, avant-squonk, jazz-core and beyond, the decade-old New York quartet Gutbucket is not only equally comfortable playing in front of 900 sweatily pogo-ing teenage skate-punks, a crowd of cosmic indie-psych freaks, on an anarchist German art collective's house-boat or even teaching master classes in the music departments of schools around the country, but most importantly, their music fits right in. A Modest Proposal solidifies Gutbucket's place at the forefront of a revitalized avant-garde music scene in New York, where sparkling new venues pack in 20-somethings at Steve Reich gigs and Bang on a Can's all-night music marathons draw crowds for Stockhausen at Sunrise. The band has spent the past 10 years injecting a shot of exuberance into the minimalist cool of the New York downtown scene. The group attacks their music with the ferocity usually reserved for punk, and the humorous abstraction of art-rock, despite having earned their jazz bona fides. Founded by bassist Eric Rockwin, saxophonist Ken Thomson, guitarist Ty Citerman, and drummer Paul Chuffo, Gutbucket built their all-important live reputation in New York clubs before spreading across east coast college towns. Trips to Europe soon followed, with over a dozen tours in 19 countries taken to date. Joined in 2007 by longtime friend Adam D Gold on drums following Chuffo's departure, Gold's musical voice was quickly deemed a necessity. A close friend, he's also good for van conversation. Which is good. Because there are miles to go before Gutbucket sleeps!
**************************************************************
ALBUMS:
A Modest Proposal (2009) Cuneiform



Selected Press for A Modest Proposal (2009):
"Achieves an impressive balance of passionate lyricism and pummeling angularity."
- Time Out New York

"Although they don't flaunt it, all the band members are superb musicians... it's music making and exploring the edges, nibbling at them to re-create the elements and discover something new, which they do admirably. A superb record"
- All Music Guide

"This is a rarity: a punk rock band with chops, whose members actually write out their music... rip-roaring energy and razor-tight micro-cuts."
- PopMatters

"This multitasking quartet offers a sense of newness to the jazz realm by crossing borders and taking an aggressive, raucous and well-rehearsed stance. ...the band should capture the attention of the young and thoroughly hip, along with the adventurous music aficionados who yearn for a sense of musical excitement."
- All About Jazz
Sludge Test (2006)


Selected Press for Sludge Fest (2006):

"Frenzy and uplift are unifying principles on Sludge Test (Cantaloupe), this downtown group's twitchy new album. Its live shows
pursue the same ideal, forcing a conversation between punk, funk and free jazz for saxophone, guitar, bass and drums."
– Nate Chinen, The New York Times, May 19, 2006

"Gutbucket has refined its punk-jazz blend to the point where it hits like a pop in the kisser."
– Village Voice

"Ken Thomson's freewheeling saxophone is the band's signature sound, but he plays over anything from oddly-timed prog freakouts to punk raveups; the very adept musicians are clearly in control of the chaotic sound they create. A classic case of a band that defies
categorization."
– Washington Post

"They're rock-obsessed guys inspired by the notion of steeping out of the axiomatic box, and their [new] Cantaloupe disc is one of the
year's more adventurous outings.... They're pretty awesome."
– Chapel Hill Independent

"Gutbucket continues to play with the frantic intensity of a punk band while exhibiting dazzling turn-on-dime chops. The free range collision of ideas isn't just a breath of fresh air; it's a visceral sock in the chops."
– Jazzweek

"Devastatingly precise playing... solos feel like a lid exploding... Short tracks land one solid punch, while longer tracks have a
cinematic sweep and diversity."
– Jazz Times

"Gutbucket might be the possessed grandchildren of bandleader Spike Jones, except that in the three CDs they have produced, I've yet to hear a gunshot. This modernized version of the blender band has been done before by groups such as Naked City, Blood Duster, and Mr. Bungle, but not nearly as well. ... Why do you care? Besides the big fun involved, Gutbucket adds musicianship to entertainment, a quality sorely lacking in today's rock shows. These guys speak the language, whether the driving pulse and thrash guitar of "Money Management For A Better Life" or the nod to Return to Forever on "Disciplining The Fugitive," with bits of Slavic music. They also walk the walk. ..."
– Mark Corroto, All About Jazz, February 06, 2006


Dry Humping the American Dream (2004)


Selected Press for Dry Humping the American Dream (2004):

"... the high level of innovative musicianship leaves the listener wanting more."
– AM News New York

"A fusion for the 21st Century" – East Bay Express

"... Gutbucket is nothing if not counter-culture, but for all their anarchist leanings they are actually a group of talented players who have chosen to combine rapidly-changing movement form reminiscent of early Zorn with a punk attitude. But don't let their chaotic, occasionally head-banging style fool you—these players are influenced as much by the harmolodics of Ornette Coleman as they are by the thrashing of garage bands. Equally capable of incorporating a diverse blend of styles within the confines of a single six-minute piece...as they are creating an
almost hypnotic and, yes, perhaps even lyrical ambience on "Another World is Possible," the four members of Gutbucket seem
comfortable in a variety of spaces. ... There are a number of precedents for Gutbucket, including some of the staggering unison lines of Lost Tribe, although they were never this overtly aggressive; the extended forms of Rock In Opposition bands like Henry Cow, but they were never this thrashing; and even the sheer power of Sonic Youth, but they could never play this well. If Gutbucket seems to be a bundle of paradoxes, a
collection of divergent sources, they are. ... ...Gutbucket...are an intriguing collection of players who seem intent on addressing their talents to a series of pastiche pieces that range from the amusing to the frightening. Dry Humping the American Dream is a raw...energy-filled record... a real kick in the pants..."
– John Kelman, All About Jazz, June 24, 2004


Insomniacs Dream (2000)


Selected Press for Insomniacs Dream (2000):
"The in-your-face production is aggressively projected close to, or beyond distortion levels... highly recommended."
– The Wire
"Gutbucket's postmodern juxtaposition of styles means a tune might ease into nightclub jazz cool, then gradually disintegrate into flying shards of sound, then leap directly into dirty funk. No holds barred. Their live shows are legendary. … I must admit that I have a special fondness for brazen, unabashed trampling of barriers between genres - but Gutbucket does something truly special here. It's some of the most exciting and creative improvised music that's passed through my stereo in a long time."
– Nils Jacobson, All About Jazz, March 01, 2001
"Gutbucket's music is difficult to categorize. The opening track, "Insects," is angular and shifting. Over a rockish rhythm, the band dips into a fractured Ornette type sound, lead by saxophonist Ken Thomson. "Don't fall on dirty mary" starts out as a flowing Latin tune and disintegrates into distortion and jagged rhythms. "Ornette's computer people" opens with guitar and sax, then progresses to hard-edged noise, before taking up a groove.
The rest of the tracks here follow suit, as the band mixes up styles and rhythms, keeping the listener on their toes. The music is often dark and unsettling, yet has moments of simple beauty. … Recommended for those wanting something adventurous with a contemporary New York groove."
– Michael Bettine, Jazz Review
"Noted for their vivacious stage shenanigans, this New York City-based jazz/rock/punk quartet also packs a lot of muscle into its repertoire. … With its freshman release, the instrumentalists' uncompromising approach to music in general comes to fruition here via a smattering of nicely arranged yet gleefully - in your face -works. … the musicians meld pulsating, King Crimson-like ostinatos with elements of grunge rock, modern jazz and heavy metal. Hence, the ensemble's chemistry might be akin to a heavyweight boxer sneering at his opponent during the referee's opening instructions.
… The artists' soften up the proceedings thanks to saxophonist, Ken Thomson's breezy lines atop an off-kilter rock beat on, "Sweet Tooth, Bleeding Gums." Moreover, electric guitarist, Ty Citerman beckons the listener to wake up and smell the metal, thanks to his blitzing crunch chords and scathing lead lines. However, each member of the band performs a vital role throughout this action packed affair. Recommended."
– Glenn Astarita, All About Jazz, January 01, 2002
Miscellaneous:

"Nothing makes you feel as sane as listening to musicians who are clearly out of their minds.... Like the circus clown who
continually pretends he's falling off his unicycle yet never actually does, Gutbucket has a wonderful knack for melting time
without ever losing the groove. Would have hurt my ears if I wasn't laughing so hard."
– Guitar Player

"Blends free jazz, hardcore rock, oddball time signatures, and other elements into a cacophonous, humor-laden sound all its own."
– Boston Globe

"Extreme sonic turns, blasting from riff-based heavy rock to jazz and klezmer, often in one song."
– The Onion

"Sounds like Raymond Scott's soundtrack for a movie about Frank Zappa, performed by Slayer and Ornette Coleman, only the reels aren't in order."
– Nashville Scene
ALBUMS:

A Modest Proposal (2009) Cuneiform




[Listen to: "Head Does Thud"]

Sludge Test (2006)




Dry Humping the American Dream (2002)

*********
DOWNLOAD A COPY OF GUTBUCKET'S ELECTRONIC PRESS KIT
*********