Boundaries are meant to be crossed. In recent years, a wave of brainy, ballsy bands has begun to blur the lines between electric jazz, progressive art-rock, punk, and metal. Defiantly original in their approach and sound, Zevious are in the forefront of this movement, and their third album, Passing Through the Wall, is an emphatic, dimension-smashing statement of artistic purpose. Recorded in February 2013 at Menegroth, The Thousand Caves in Queens, New York with producer Colin Marston, it's a red-hot blend of intricate, locked-in three-way interaction and raucous energy that'll remind you that sometimes you spell "punk" with the letters J-A-Z-Z and vice versa, and have you headbanging and cheering even as you ask yourself, "How the hell did they just do that?"
Zevious are a trio-guitarist Mike Eber, drummer Jeff Eber (cousins, not brothers), and bassist Johnny DeBlase. They started out as straight-ahead-ish jazzbos in 2006, but after a couple of years and a self-released CD, they "went electric," as the old folks say, with DeBlase putting down his upright bass and Mike Eber picking up the Telecaster that gives his tightly knotted lines their sting. The music they wrote shifted from jazz chords and head-nodding swing to tumbling, noisy rock that recalls instrumental-skronk powerhouses like James "Blood" Ulmer, Nels Cline, David Torn, Brandon Seabrook, and more.
Zevious' second album, 2009's After the Air Raid, was the culmination of several years of hard compositional and rehearsal labor and showcased a rhythmically intense and highly structured sound. Released on Cuneiform, it garnered much critical acclaim in publications such as Signal to Noise, Downbeat, Jazzwise and Exposé, and was called a "fully realized," "genre busting brawny recording". To support the album, Zevious toured the United States and Canada extensively in 2010 and 2011, playing alongside bands like Faun Fables, Seabrook Power Plant, Behold...the Arctopus, Upsilon Acrux, STATS, Algernon, PAK, Child Abuse, and Dysrhythmia.
According to the band, the goal on Passing Through the Wall is to induce a trance-like state in the listener through repetition, non-conventional melody and challenging song structure. The compositions are based around large cycles of layered poly-rhythmic patterns against octave displaced melodies, the individual parts working together to create dense, pulsating textures. The title Passing Through the Wall is fitting for the music on this album because the band is challenging the listener to literally "pass through a wall" of sound, transforming their state of mind in the process. Or, to put it in layman's terms, via Mike, "Every piece that we write, we're trying to explore a particular concept, and on this album we really tried to play with layered time. So at some point or throughout entire tracks, we're actually playing in three time signatures at once-I might be in one, Johnny's in another, Jeff is playing both and then on top of that, another one." Zevious' compositional strategies are somewhat unique, and atypical for a band as rocking as this; as Mike Eber explains it, "Johnny and I do all the writing for Zevious, but we write separately, so when I write a song, I write all the parts, guitar, bass and drums; I score it out, and Johnny does the same thing for the songs he writes."
Still, while the music on Passing Through the Wall is complicated, and features complexity worthy of John McLaughlin or Allan Holdsworth, it's also very much the work of a rock band. The album opens with "Attend to Your Configuration," a hard-charging burst of twisting, turning guitar and bass melodies all bolstered by martial drumming that'll get any listener's attention. That sets the stage for "Was Solis," on which feedback and distortion point toward a strong post-punk influence, and the throbbing, ultra-heavy "Pantocyclus," whose almost dubby groove is repeatedly disrupted, in the final stretch, by a grinding guitar sound. Says Eber of "Pantocyclus," "It's conceptual-it's as if a line is continuing, and we're breaking it up in different places, but it's consistent, it's just being pushed maybe a quarter note each time." On "A Crime of Separate Action," Eber's guitar may remind you of Robert Fripp with King Crimson circa 1974; meanwhile, the title piece, coming two tracks from the album's end, sounds like a slightly altered version of "Attend to Your Configuration," giving the record something of a looping structure. When the album does end, with its longest track, the eight-minute "Plying the Cold Trade," it's on a moody and ominous note; the music builds slowly from an almost doom-metal crawl to a dissonant, clanging crescendo and a final burst of feedback. Passing Through the Wall is a ferocious 48-minute slab of muscular, intelligent instrumental rock that will thrill fans of progressive rock, jazz fusion, electric jazz, art-metal, and punk alike.
For more information on Zevious, see:
www.zevious.com - www.facebook.com/zevioustrio - www.cuneiformrecords.com
PROMOTIONAL TRACK //


"Entanglement" (mp3 download)
stream: @SoundCloud / @Bandcamp / @YouTube
PURCHASE LINKS //
AMAZON - ITUNES - BANDCAMP - WAYSIDE MUSIC
ARTIST SITES // www.zevious.com - www.facebook.com/zevioustrio - @www.cuneiformrecords.com

PHOTOS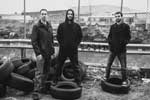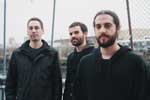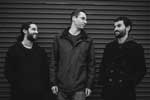 Digital [High-Resolution] versions of these images are available for download on www.cuneiformrecords.com
What the press has said about...
ZEVIOUS - AFTER THE AIR RAID (Cuneiform 2009)
"…Zevious is jazz, it's rock, it's the downtown punk-jazz-harmolodic vibe. Zevious is for anyone who loves aggressive rock-oriented improv with grooves and some semblance of a song…[Zevious lets] us know that being intense doesn't mean you can't have arrangements and that following a script doesn't mean you can't let your hair down. [3½ stars]"
-John Ephland, Downbeat, September 2011
"Led by new electric guitar hero Mike Eber, this band should wipe the floor with any comparable group that dares to perform with such a bold, in-your-face posture. Though claiming various primal jazz fusion influences, the unmistakable sound of Robert Fripp and King Crimson from their trio period and the seminal album Red cannot be denied. You also hear the British Canterbury concept via Gary Boyle or Alan Holdsworth, a little bit of the progressive sound of the Muffins, and even pieces of Frank Zappa, the jazzier Jeff Beck and Robin Trower, or Gary Lucas creeping in alongside a punk attitude. Everything here is short, concise, and to the point…hard-edged, dark guitar is at the center of this trio's core."
- All Music Guide
"From our friends at Cuneiform comes a new release that has a grip on me right after the first listening…a sound at times that is electric jazzed punk and at other times the odd metered groove filled jam-scapes reveal a new fusion unlike most I've tried before."
- Green Arrow Radio, October 22, 2009
"Zevious…navigate its self-assembled rhythmic obstacles courses with such uncanny precision. While mashing together the languages of jazz and rock, the East Coast trio miraculously avoids the bastardized funk or indulgent noise pitfalls of a thousand fusion bands before…After the Air Raid…crafts jagged instrumentals that rock, swing, pulverize and lull. Occasionally, these lock into conventional tempos long enough for toes to tap along - until another detour ties the listener's shoelaces together."
- Ryan Wasoba, River Front Times, March 10, 2010

Concert Previews / Reviews & Features
Zevious is capable of some heinous shit and unbelievable complexity…you don't have to understand it to be in awe of it."
- Ross Edwards, Knocks From the Undergound, Jan 7, 2010, www.knocksfromtheunderground.com
"Zevious' basement jazz speaks in rhapsodic, demented freakouts."
- Corbie Hill, Indy Week, www.indyweek.com
"These guys are all amazing."
- Kris LoCascio, Johnny Brazil, February 25, 2011
"A major dose of both the raw emotion and cerebral detail that are present in cutting-edge jazz and improvised music"
- Clifford Allen, Austinist, March 25, 2011, www.austinist.com
"With increased intensity, distortion, and complexity, these three men are on the rise.
-Ithaca Underground, February 27, 2010
"...last night…was a truly awesome night of live music. … ZEVIOUS (who came all the way out from New York)… These dudes were honestly an amazing band, and no offense, kicked the ass of many of the INDY bands I've seen over the past year."
- "What's wrong with local music?" THE EYE OF NAP, 3/11/2010