VOLAPÜK
Guigou Chenevier • Michel Mandel • Guillaume Saurel • Takumi Fukushima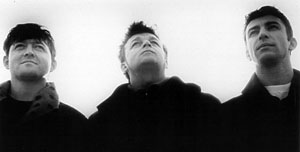 "Formed in Southern France in 1993, Volapük were initially a trio of drums, bass clarinet, and cello. The trio members used their instruments in expanded roles, creating unusual tonal colors; their music blended ensemble play, jazz, and chamber music with a solid rock underpinning.
In 1973 Volapük's percussionist, Guigou Chenevier, had been a founder of Etron Fou Leloublan, a band that (along with other groups including Henry Cow, Univers Zero, Stormy Six, and Samla Mammas Manna) became a charter member of the Rock in Opposition collective in 1978. Etron Fou recorded six albums between 1976 and 1985, touring Europe repeatedly and the United States three times. Chenevier has recorded several solo albums and releases with other groups.
Bass clarinetist Michel Mandel received a master's degree in music from the Grenoble Academy of Music. He has played in numerous musical and theatrical settings in Italy, France, Germany, and Hungary.
Cellist Guillaume Saurel studied at the Avignon Academy of Music. He has performed in concert and on recordings, and has played music for dance and theater throughout France.
After 17 years in existence, Volapük announced their breakup in March of 2010." – AllMusic
POLYGLÖT

RUNE 134

Polyglöt

finds Volapuk refining their immediately identifiable sound. In addition to the usual contributions from Guigou Chenevier-drums, electronics, Michel Mandel-clarinets, taragot, & Guillaume Saurel-cello, ex-After Dinner violinist Takumi Fukushima appears as a guest on most of the record, & her contributions fill out & extend their already marvelous sound.

The usual great melodies & catchy intricate rhythms abound as well. Included is Voilà Puk, a tune written for them by Lars Hollmer.




SLANG!

RUNE 94

Forget the fact that you can't pronounce the name of the band and listen up! Volapuk is drummer/composer Guigou Chenevier's (Etron Fou) new trio also featuring bass clarinetist Michel Mandel and cellist Guiillaume Saurel.


The band has a very immediately identifiable sound, making full usage of the unusual sonorities of their instruments, along with short, rhythmically complex compositions & improvisations. Exciting, mostly composed music that will please any fan of adventurous/RIO style rock. Guigou is one of the great drummers in rock and is also a superb composer; many of the great Etron works bear his imprint. The cello and bass clarinet handle duties not normally assigned to these instruments with clarity and dexterity.

LE FEU DU TIGRE

RUNE 74

"A wonderful trio [whose] compositions are highly rhythmic and playful, full of both surprises and logical thematic development." - C.M.J.


"This first release by the Volapuk trio finds the group in top form. These guys are pros, after all, with drummer and leader Guigou Chenevier already a Rock in Opposition veteran with numerous recordings as a member of Etron Fou Leloublan, and the two other group members, Guillaume Aurel on cello and Michel Mandel on bass clarinet, both with substantial classical training and performance experience.
The name "Volapuk" references an early attempt at a universal language, actually predating Esperanto by 50 years. Just as Volapuk (the language) draws from English, German, Latin, French, and Italian sources, Volapuk (the group) integrates popular and folk music of various European cultures. However, this CD is transitional, in that it displays a strong art rock and classical influence at times, as well as a substantial jazz element, especially in Mandel's clarinet work. Pieces like "El Sombrero," for example, are very much in the Rock in Opposition mold, with tricky time signatures, repetitive riffs, and the eventual appearance of Mandel's earthy clarinet, wailing over the top.
Later CDs by the group will display a greater ethnic content, and perhaps a more natural integration of musical elements, but this is nonetheless a dynamic and confident recording, anchored by Chenevier's inventive and propulsive drumming." – AllMusic