Cuneiform Records
congratulates
Wadada Leo Smith
on being named a
2013 Pulitzer Prize in Music Finalist
for
Ten Freedom Summers
his epic masterpiece on the American Civil Rights Movement

Cuneiform Records is honored
to have released
Ten Freedom Summers
worldwide on
May 22, 2012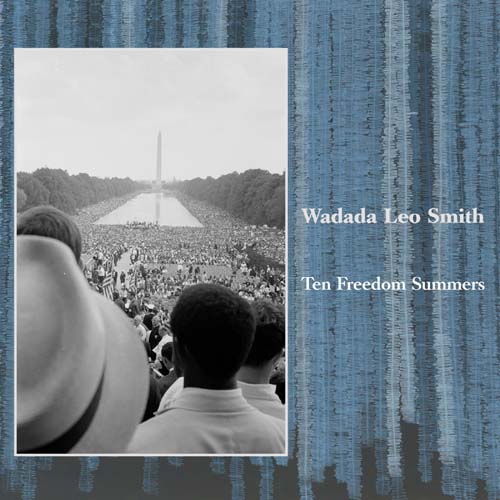 "By selecting "Ten Freedom Summers" as a finalist among 157 entries, this jury made a clear statement that American music has ventured far beyond the noble traditions
of Bach, Beethoven and Brahms.
How fitting that an artist indelibly linked with the Association for the Advancement of Creative Musicians — which has been redefining music in America for nearly half a century — should carry that message forward."
- Howard Reich, "Pulitzer finalist Wadada Leo Smith symbolizes Chicago jazz power,"
Chicago Tribune, April 15, 2013

- the Pulitzer is the most prestigious award in American music -

The 3 official 2013 Pulitzer Prize for Music finalists and the winner were announced on April 15. The finalists included:
"Wadada Leo Smith for "Ten Freedom Summers," recording released May 22, 2012, an expansive jazz work that memorializes 10 key moments in the history of civil rights in America, fusing composed and improvised passages into powerful, eloquent music. (Cuneiform Records)".
The other finalists were Aaron Jay Kernis, for "Pieces of Winter Sky," and the Pulitzer Prize winner, Caroline Shaw for "Partita for 8 Voices".
[See: 2013 Pulitzer Prize Finalists - http://www.pulitzer.org/citation/2013-Music]

The Pulitzer Prize is America's most distinguished award for journalism, literature, and music. Administered by Columbia University, it was established in 1917 by publisher Joseph Pulitzer to award exemplary work in journalism and literature. In 1943, a Pulitzer Prize for Music was added: "For a distinguished musical composition of significant dimension by an American that has had its first performance in the United States during the year." [For more on the Pulitzer, see http://en.wikipedia.org/wiki/Pulitzer_Prize_for_Music]

Despite the breadth and depth of the American musical experience and the central role of jazz ("America's classical music") within, the Pulitzer Prize for Music has been awarded only twice to a jazz artist for a musical composition.
In 1996, Wynton Marsalis won the Pulitzer for "Blood on the Fields", and in 2007 the Pulitzer prize went to Ornette Coleman, for "Sound Grammar."

However, five other jazz musicians have received posthumous Pulitzer Special Awards or Citations, including a Special Award made to Scott Joplin (1867-1917) in 1976, and Special Citations given to George Gershwin (1898-1937) in 1998, Duke Ellington (1899-1974) in 1999 (the Pulitzer Board had declined giving Ellington a Citation in 1965, during his lifetime), Thelonious Monk (1917-1982) in 2006, and John Coltrane(1926-1967) in 2007.

Ten Freedom Summers being named an official Pulitzer finalist is a watershed moment in the history of American music, and particularly avant-garde jazz and American creative music.

In his Chicago Tribune article, Howard Reich says: "Smith's "Ten Freedom Summers" significantly pushes out the definition of what can be considered Pulitzer-worthy music. ...these pieces...bristle with jazz, improvisational and European compositional techniques."