THE MICROSCOPIC SEPTET
perform tunes by
Thelonious MONK
&
The MICROS
on two special autumn nights
in
BALTIMORE, MD & NEW YORK CITY

BALTIMORE, MD

Wednesday, August 31, 2011
@
An Die Musik LIVE!
409 North Charles Street
Baltimore, Maryland 21201
http://www.andiemusiklive.com/
Telephone: 410.385.2638

show begins @ 7:30 PM sharp
Admission: $15 / $10 with student ID

Buy tickets online through InstantSeats.
To buy via phone, please call 410.385.2638


NEW YORK CITY

Tuesday, September 6, 2011
@
The Gershwin Hotel
7 East 27th Street
New York, New York 10016
http://www.gershwinhotel.com
Telephone: 212.545.8000

three sets beginning @ 7:00 PM
Admission: $20 at the door (no advance sales)

Co-led by composers/arrangers Phillip Johnston and Joel Forrester, The Microscopic Septet is one of America's most iconic jazz bands. Voted #5 Jazz Group in DownBeat Magazine's 2011 International Critics Poll, the Micros' music is some of most memorable in contemporary jazz, simultaneously sophisticated and accessible. The theme song they created for NPR's "Fresh Air with Terry Gross" airs on American radio daily. Since its release in Oct. 2010, the band's newest CD, Friday the Thirteenth: The Micros Play Monk - a perfect marriage of Monk's tunes, the Micros' arrangements, and Barry Blitt's artwork - has been praised by critics worldwide as one of the best tribute records of Thelonious Monk's music ever created.

For these concerts, the Micros will perform some of their Monk arrangements as well as their original tunes. The Microscopic Septet consists of: Phillip Johnston - soprano saxophone, Don Davis - alto saxophone, Mike Hashim - tenor saxophone, Dave Sewelson - baritone saxophone, Joel Forrester - piano, David Hofstra - bass, Richard Dworkin - drums.
~ The Micros' live performances are legendary -don't miss these shows! ~
- plus -

in New York City
on Friday, Sept. 2, 2011
an evening of performances by two groups featuring Micros' members
The Joel Forrester/Phillip Johnston Duo (@ 8:30 pm)
&
The Spokes (@7:00 pm)
each celebrating a new CD release
at BARBÈS
376 9th Street, Brooklyn, NY 11215
Telephone: 347.422.0248 - http://www.barbesbrooklyn.com/
Tickets: $10
7:00 PM - The Spokes release Not So Fast (Strudelmedia), a new CD featuring compositions by all members. The Spokes are a jazz / new music / chamber music / horn trio/ composers' collaborative: Andy Biskin-clarinet, Curtis Hasselbring-trombone, Phillip Johnston-soprano saxophone

8:30 PM - Joel Forrester/Phillip Johnston Duo release Live At The Hillside Club (Asynchronous). In 2010, the Micros' co-leaders/composers/arrangers toured the West Coast as a piano/saxophone duo to promote Friday The 13th: The Micros Play Monk. Recorded live in Berkely, CA, Live At The Hillside Club captures the duo's performance on a particularly memorable evening
visit them online:
PHILLIP JOHNSTON : : JOEL FORRESTER
To schedule an INTERVIEW with The Microscopic Septet, or to receive a promo copy (digital or physical) of the album Friday the 13th, please contact Joyce at Cuneiform:
email: joyce@cuneiformrecords.com
phone: 301-589-8894
address: Cuneiform Records, P.O. Box 8427, Silver Spring, MD 20910 USA
For hi-res copies of album artwork for Friday the 13th and other Micros' albums on Cuneiform, photos of the band, and CD press releases, visit Cuneiform Record's Press page
__________________________________________________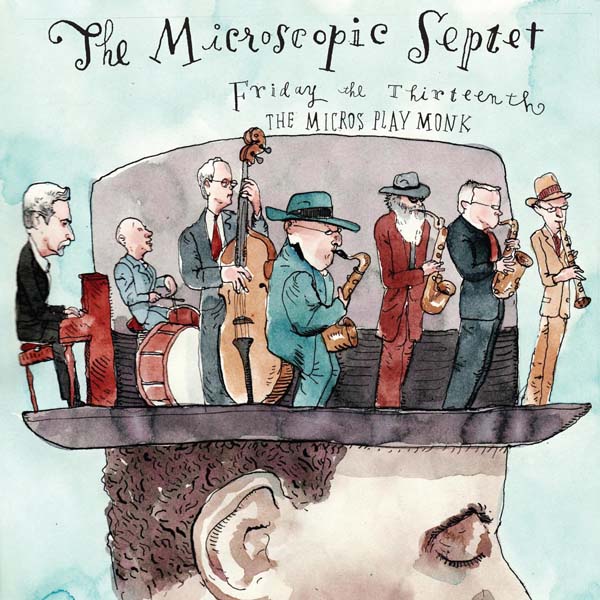 FRIDAY THE 13TH: THE MICROS PLAY MONK
Released Oct. 5, 2010 on Cuneiform Records [Rune 310]

Download/Listen to "Bye-Ya"
ALBUM DETAILS


TRACK LISTING:
1. Brilliant Corners (5:09)
2. Friday the 13th (5:45)
3. Gallop's Gallop (5:22)
4. Teo (4:29)
5. Pannonica (5:15)
6. Evidence (5:42)
7. We See (5:50)
8. Off Minor (4:34)
9. Bye-Ya (3:37)
10. Worry Later (5:04)
11. Misterioso (5:39)
12. Epistrophy (2:54)

All songs composed by:
Thelonious Monk, except 12 (Monk/Clarke).

Published by:
Thelonious Music, except 8 (Embassy Music)
and 12 (Embassy Music/Music Sales).

Tracks 1, 2, 3, 4, 7, 11 arranged by:
Phillip Johnston.

Tracks 5, 6, 8, 10, 12 arranged by:
Joel Forrester.

Track 9 arranged by:
Bob Montalto.


THE MICROSCOPIC SEPTET:

Phillip Johnston
soprano saxophone

Don Davis
alto saxophone

Mike Hashim
tenor saxophone

Dave Sewelson
baritone saxophone

Joel Forrester
piano

David Hofstra
bass

Richard Dworkin
drums


Recorded at:
Systems II Studios, Brooklyn.

Engineered, mixed and mastered by:
Jon Rosenberg.

Assistant Engineer:
Max Ross

Cover art:
Barry Blitt

Photos:
Lars Klove

Graphic design:
Bill Ellsworth

Produced by:
Phillip Johnston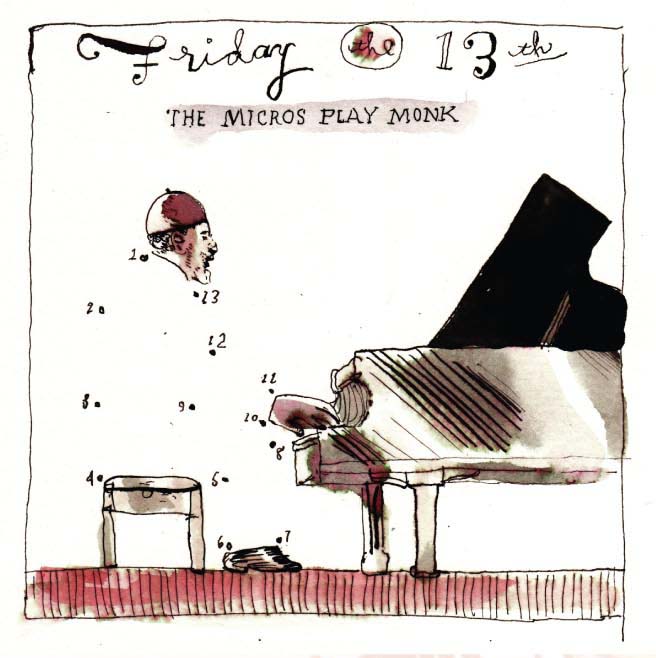 The recording of Friday the Thirteenth: The Micros Play Monk was made possible thorugh a 2010 Kickstarter fundraising campaign. Coordinated by Phillip Johnston, the successful campaign raised $10,022 by April 24, 2010. To see this campaign:
Cuneiform Records' Press Release for the album:
"If the Micros have a spiritual beacon, it's Thelonious Monk. Like the maverick bebop pianist, they persevere... Their expanding core audience thrives on the group's impeccable arrangements, terse, angular solos, and devil-may-care attitude. But Monk and the Micros have something else in common as well. Johnston tells a story: "Someone once walked up to Monk and said, "You know, Monk, people are laughing at your music.' Monk replied, 'Let 'em laugh. People need to laugh a little more."
- Richard Gehr, Newsday, New York, 1989
"There is immense power and careful logic in the music of Thelonious Sphere Monk. But you might have such a good time listening to it that you might not even notice. …His tunes… warmed the heart with their odd angles and bright colors. …he knew exactly how to make you feel good… The groove was paramount: When you're swinging, swing some more," he'd say..."
- Vijay Iyer, "Ode to a Sphere," JazzTimes, 2010
"When I replace Letterman… The band I'm considering…is the Microscopic Septet, a New York saxophone-quartet-plus-rhythm whose riffs do what riffs are supposed to do: set your pulse racing and lodge in your skull for days on end. … their humor is difficult to resist. This is a band that knows how to have fun while going deep…"
- Francis Davis, "Band of Outsiders," Outcats, 1990
The late jazz composer and pianist Thelonious Sphere Monk (1917-82) is one of the top creative deities in the pantheon of American Jazz Greats. He is one of jazz's greatest composers; Penguin Guide to Jazz notes that Monk's "output ranks with that of Morton and Ellington." Monk's tunes, once considered radical and appreciated by only a small cognoscenti, are now beloved standards, and may well be the most frequently covered jazz tunes on recordings. His creative brilliance continues to resonate over time; a surge of interest in the composer this year has already led some to begin calling 2010 "the Year of the Monk."
The music of Thelonious Monk, as it escaped the windows of a Downtown New York apartment, was the catalyst that sparked the creation of one of New York's most legendary and important jazz groups, the Microscopic Septet. Since it was founded in 1980, under the co-leadership and co-compositional duties of soprano saxophonist and composer Phillip Johnston and pianist and composer Joel Forrester, "the Micros" have been responsible for creating some of the most captivating and memorable original tunes and performing some of the most entertaining shows in the past 30 years of American jazz. In 1974, the Monk tune: "Well You Needn't" first brought the future Micros co-leaders together by chance. Johnston was living in the Bowery at the time, and Forrester, hearing music, barged into his apartment, unannounced: "I was playing a Thelonious Monk tune, and a guy I had never seen before came walking through my door, which wasn't locked- those were the hippie days…" The encounter sparked a friendship and working relationship, in which Monk's music reverberated on multiple levels across the years. Another chance encounter - at chicken and ribs place West Boondock, following his performance of Monk's "Pannonica" on the restaurant's piano - forged Forrester's friendship with the Baroness Pannonica de Koenigswarter. And through the Baroness, Forrester would ultimately meet and periodically play piano for Monk.
Since Johnston and Forrester's first meeting nearly four decades ago, Monk's music has remained an inspiration and guiding light throughout the lengthy course of their music careers. In addition to creating and playing their own music, Johnston and Forrester always played Monk's music: as a duo, in Forrester's quartets and large groups, and, from that band's very beginning in 1980, with the Microscopic Septet. Micros gigs always included their arrangements of Monk tunes, but due to the Micros' limited number of releases (5 albums) and their copious original songbook (more than 180 tunes), they only previously recorded Forrester's arrangement of Monk's 'Crepuscle For Nellie.'
The new Microscopic Septet CD released on Cuneiform, Friday The 13th: The Micros Play Monk rectifies this omission. Featuring original arrangements of 12 Monk tunes, half from "back in the day" and half newly-written for this recording, the Microscopic Septet make clear their line of descent from Monk. The humor and angularity of Monk's compositions mesh easily and joyfully with the elaboration and juxtaposition of the Micros-style arranging. Definitively not a dry deconstruction, this is a true celebration of Monk by a group that can arguably be called his most sensitive and sensational heirs.
Featuring gorgeous art work by New Yorker artist Barry Blitt - the man responsible for the infamous and controversial "Michelle and Barack 'fist-bump'" cover and other contentious-yet-humorous artwork, and liner notes by jazz critic and long-time Micros fan Peter Keepnews, Friday the 13th is surprising yet inevitable: a long overdue party with the master, at which The Micros Play Monk.
Friday the 13th arrives amidst a perfect storm of works in multiple media devoted to or about Monk. Dubbed by Jazz Times as 'Year of the Monk', 2010 had witnessed a biographical book on Monk by Robin D. G. Kelley, a documentary film on Monk's patron and friend, the Baroness Pannonica de Koenigswarter, called The Jazz Baroness, and several CDs of Monk tunes by various musicians. Transcending mere tribute, the Microscopic Septet's Friday the 13th distills Monk's heady and humorous essence, revives his iconoclastic spirit, and revels in, and with, the creative compositions of Monk.
Selections from Press that Friday the Thirteenth: The Micros Play Monk has received since its release: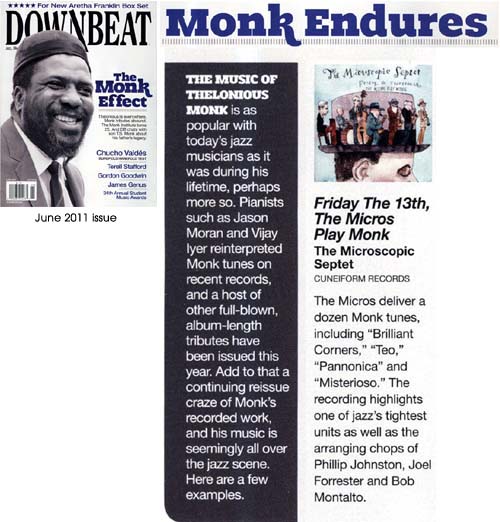 ALL MUSIC GUIDE
"... Part of what makes the Micros' take on these familiar tunes so enjoyable is their willingness to engage with Monk's sense of humor; the "difficulty" of his music is frequently puckish rather than forbidding, and too few musicians recognize that fact or capitalize on it. The group's unusual configuration...makes possible some very interesting timbral juxtapositions, and they make the most of that potential as well. ...longtime fans who think they've heard every possible interesting arrangement of these tunes should think again."-Rick Anderson
JAZZ TIMES
"... Friday the 13th proves, again, that the music of Thelonious Monk is universal, timeless, and open to endless interpretation. ..."- Steve Greenlee, March 2011
ALL ABOUT JAZZ
"Devoid of clichés and the old wine-new bottle equation, The Microscopic Septet, as anticipated, delivers the goods with its signature mode of adventure and quirkiness. It's a colloquy that professes a sense of newness under the portent that the musicians have aligned their creative juices with Monk's spirit—and nod of approval from above."- Glenn Astarita, Jan. 4 2011
VILLAGE VOICE
"Adding three extra saxophones to Monk's basic sax-piano-bass-drums arrangements transforms them into a kaleidoscope of color. Phillip Johnston's soprano refracts Steve Lacy, while Mike Hashim's tenor can't help but swing. A MINUS"- Tom Hull, May 11 2011
THE SYDNEY MORNING HERALD
"... They are just the right band for the job, playing with love rather than reverence. ... The result is enduring and highly entertaining." - John Shand, Dec. 3 2010
POP MATTERS
"...The charm of The Micros has always been their joyous, unself-conscious collage of different jazz styles. They are a kind of sleek swing band one moment, a Latin jazz group the next, a group of '60s avant-eek-onkers just a moment later. And it's all played with the kind of zippity zest that keeps things entertaining. That is the just the treatment that Dear Ol' Thelonious gets here. ..."- Will Layman, Feb. 24 2011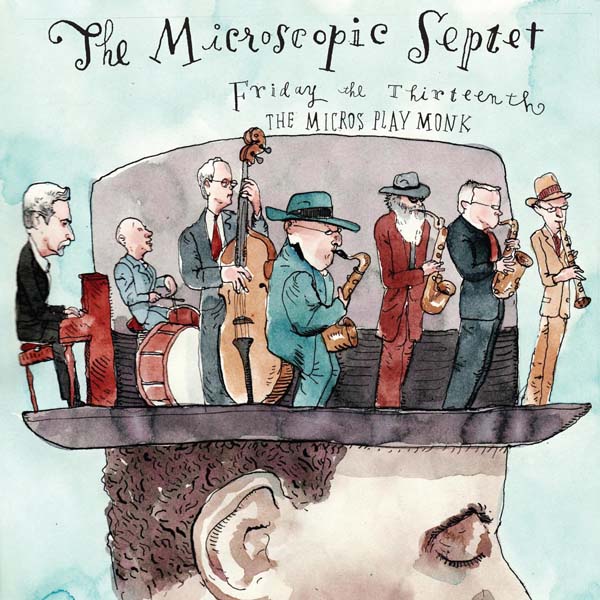 "the Micros welcome us deep into Monk's, and their, territory"-All About Jazz-New York (New York Jazz Record)
visit the Micros online:
MICROSCOPIC SEPTET ALBUMS ON CUNEIFORM
"The recording highlights one of jazz's tightest units as well as the arranging chops of Phillip Johnston, Joel Forrester and Bob Montalto."-DownBeat
"The septet returns to the source...and does its mentor proud...giving it up merrily to Thelonious without being utterly felonious." - Relix
"... Friday the 13th proves, again, that the music of Thelonious Monk is universal, timeless, and open to endless interpretation."-JazzTimes
"This successful CD is one of the best tributes ever paid to Monk." - Musica Jazz [Italy]
"The Micro Septet put their own impressively unique slant on this wonderful, idosyncratic music. ...I'm only sorry this CD was too late for my best of 2010 or it would have topped the list."-Jazz Journal [UK] "
"They are just the right band for the job, playing with love rather than reverence." - Sydney Morning Herald [Australia]
"...artwork for this album...includes a portrait of a...pianist playing a grand, the outline of his body...a series of dots to be joined by numbers; it is the perfect visual metaphor for the Micros' approach." -LondonJazz


Lobster Leaps In


"Lobster Leaps In"
[buy]

"...they seem to get better with time."-O's Place Jazz
"Packed with soaring melodies, jubilant riffs, joyous shout choruses, infectious rhythms and incisive solos, Lobster Leaps In is the most fun one can have listening to contemporary jazz."-All About Jazz
"...the band thinks nothing of evoking...previous eras while pointing forward...if the mainstream sounds like this, then we may have gotten somewhere."-Exberliner


Seven Men In Neckties: History of the Micros, Volume One


"Second Avenue"
[buy]



Surrealistic Swing: History of the Micros, Volume Two


"Brooklyn in the Fifties"
[buy]
"These two double CDs collect the output of the wildly inventive four-sax-plus-rhythm-section ensemble… Imagine Basie, Monk, and Beefheart tossed into a blender, swinging as one. A-."-Entertainment Weekly
"...time has been kind to this antic gang of jazzifying tooters. ...It's as if the times finally caught up to the Micros, with heaping doses of jazz musicians finally realizing what this septet knew as far back as Regan's inaugural-that jazz lives most fully when it's celebrating and having fun, dicing and razor-slicing American musical history with aplomb. ...these guys were important, plus they might all don a fez and march through the audience while playing....Rating: 8/10 stars"-Popmatters
"...these two double-disc sets enable one to revisit what s easily some of the most celebratory creative wing music of the culturally-oppresive Reagan-Bush years.
Both collections feature excellent cover illustrations from Art Spiegelman and re-mastered sound..."-Bagatellan
"The playing is exciting throughout but the compositions are the thing here- with enough great melodies and ideas in each track to make an album. Tgoether, these discs are a goldmine of materials that should delight and insprie a dnew generation so fans and musicians."-DownBeat
"Two decades after the Microscopic Septet's heyday, their carnival-esque take on jazz…still turns heads. Back in the '80s, when Wynton Marsalis was turning back the clock and John Zorn was just "that guy who plays duck calls," the Micros were completely out-of-step with what anyone expected "jazz" to sound like. Cuneiform's ...reissue of the Micros' albums is a timely reminder of their inventiveness and fire."-Exclaim!
MICROSCOPIC SEPTET VIDEOS
CUNEIFORM online: