Cuneiform Curates The Stone
Nov. 15-30, 2011



When one of avant-garde music's chief protagonists, John Zorn, asked Steven Feigenbaum, head of Cuneiform Records, to curate two weeks of live music at Zorn's NYC venue, The Stone, avant-music fans worldwide knew to expect an unprecedented treat. Unveiling his vision for Zorn's visionary space, Feigenbaum & company proudly present Cuneiform at The Stone, a music festival/ label showcase that exceeds all musical expectations. From Nov.15-30, 2011 - the two weeks spanning Thanksgiving holiday - Cuneiform serves up a staggering feast of jazz, rock, electronic and beyond-genre music in The Stone. Featuring 25 groups who record for the label, many of them travelling to NYC from across the USA, Cuneiform at The Stone brings to lower Manhattan a sonic cornucopia, packed with revered musical icons and fiery rising stars.

Festival highlights are numerous, and include performances by special guests normally only seen at much larger venues. Cuneiform at The Stone opens on Nov. 15 with a performance by Ideal Bread, Josh Sinton's revelatory repertory group dedicated to Steve Lacy. Later that night, trombonist and avant-garde icon Roswell Rudd - who's featured on several Cuneiform recordings, including a key archival album (Early & Late) by the legendary Steve Lacy-Roswell Rudd Quartet - will perform with Ideal Bread as his backing band. Later in the festival, on the evening of Nov. 27th, award-winning jazz pianist Jason Moran performs with Ergo, Brett Sroka's jazz/electronics group.

Every evening between Nov.15 and 30th - except Thurs. Nov. 24th, the Thanksgiving holiday - Cuneiform presents two musical feasts, most priced $10 each. There is something here for every avant taste. Nov. 17 is jazz dance party night, with The Revolutionary Snake Ensemble from Boston (New Orleans Second Line meets Ayler & Sun Ra) and Taylor Ho Bynum & Abraham Gomez-Delgado's alterna-avant-Latino-jazz band, Positive Catastrophe. Jason Adasiewicz, Chicago's 2011 Musician of the Year (Chicago Reader) brings his group Rolldown to the Stone on Nov. 18th, the same night that The Claudia Quintet + 1 performs with Theo Bleckmann. On Nov. 20th, an all-acoustic version of The Mahavishnu Project performs, while the next night, two legendary avant-rock groups from Denver- Hamster Theatre and Thinking Plague - make an extremely rare East Coast appearance. On Nov 25th, jazz fans will have the choice of two stellar jazz groups with wide appeal; NYC's Carlo De Rosa's Cross-Fade and Boston's Dead Cat Bounce. The last two nights of the festival feature, on Nov. 29th, two avant-rock groups that have been with Cuneiform since its earliest days - Forever Einstein and Doctor Nerve - and on Nov. 30th, two young jazz/rock/genre-bending groups - Zevious and Gutbucket- that are among Cuneiform's newest signings. And in addition to the groups mentioned in this paragraphs, there are much much more...


PRESS & WORLD RADIO:
Please contact Joyce: joyce@cuneiformrecords.com
if you would like
to PREVIEW or REVIEW the festival or any show,
to INTERVIEW any of the performing musicians, or
to REVIEW Cuneiform CDs released by the performers.

NORTH AMERICAN RADIO
Please contact Javier: radio@cuneiformrecords.com
if you would like
to INTERVIEW any of the performing bands on radio,
schedule an IN-STUDIO PERFORMANCE,
or if you need Cuneiform CDs for AIRPLAY.

Limited-edition t-shirts now available:
CUNEIFORM AT THE STONE

Not available at The Stone concerts, these shirts can only be purchased online for a limited time through WAYSIDE MUSIC
[CLICK HERE for purchase info]

Concurrent with it's two-week New York festival at The Stone, Cuneiform will present a two-day music festival in Baltimore, called Cuneifest: Cuneiform Comes to Baltimore. Cuneifest features a 6-band rock showcase at Baltimore's Orion Sound Studios on Nov. 19th, and a 5-band jazz showcase at Metro Gallery on Nov. 20th, 2011.

For more information about Cuneifest, see:
www.cuneiformrecords.com/festival/2011/baltimore

Cuneiform at the Stone is Cuneiform's third label showcase in New York City. The Washington DC/Silver Spring MD label held its first NY showcase in 1990 at the original Knitting Factory. In 2001, it presented a showcase at the Knitting Factory's second location. A decade later, Cuneiform takes siege of another NYC music landmark.

Cuneiform at The Stone is part of a April 2011 through March 2012 series conceived by Zorn and dedicated to and curated by independent record labels. Besides Cuneiform, the other labels in the series include Arbiter, Aum Fidelity, Cryptogramophone, Ecstatic Peace, Ehse, Erstwhile, Esp, Exp Intermedia, Hospital, Innova, Intakt, Luaka Bop, Mode, New World, Nine Winds, No Fun, Non Sequitur, Nonesuch, Pi, Pogus, Shinkoyo, Thirsty Ear, and Winter&Winter.

We hope that you can join us in lower Manhattan in November 2011, as Cuneiform Occupies The Stone!

This 23 track promotion-only sampler contains music from Cuneiform artists performing at the Stone!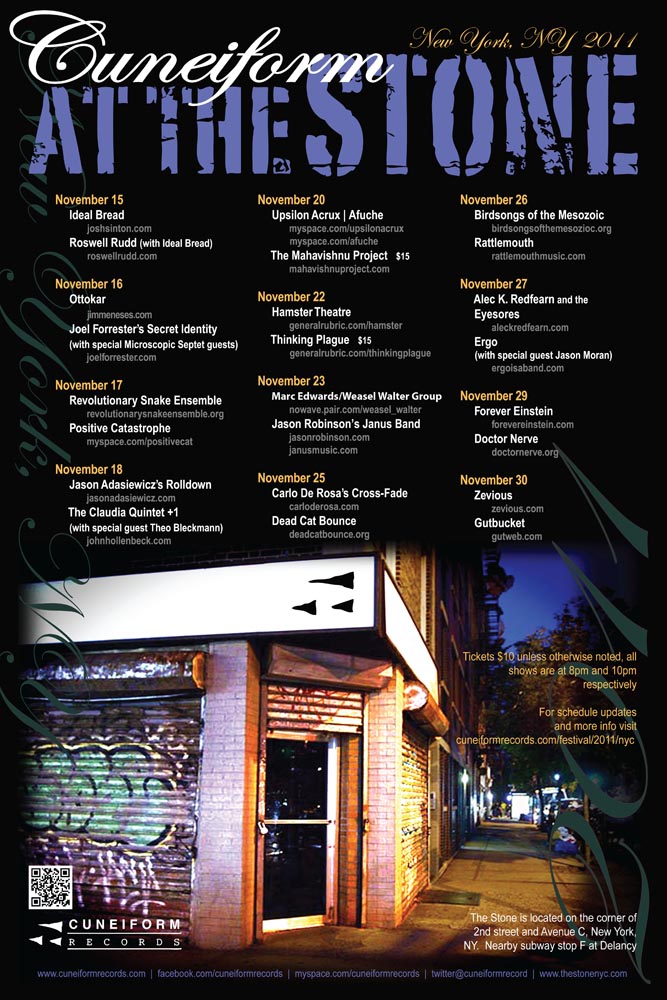 [CLICK ON THE POSTER TO DOWNLOAD IT AS A HIGH-RES IMAGE]
The Stone is Manhattan's epicenter of experimental and avant-garde music in all genres - rock, jazz, electronic and beyond-genre and more. It thus inherits the role previously filled by the Knitting Factory and Tonic: a place in one of the world's greatest cities for musicians to experiment with and perform non-commercial music, and for audiences to hear music outside the mainstream. The Stone was founded by John Zorn in 2005 as a not-for-profit performance space, and is supported entirely by donations and benefit performances. 100% of the ticket proceeds from all events - including Cuneiform's two-week showcase - goes directly to the performing artists. Located in Alphabet City on New York City's lower East Side, in a corner building formerly used for a Chinese restaurant, The Stone is an intimate, gallery-like space with audience seating and a grand piano for the performers.
The Stone is located at: the corner of avenue C and 2nd street, New York NY
"Music that satisfies even the most discriminating underground tastes. From avant-rock to improv jazz, Cuneiform has eternalized music MTV wouldn't touch with a ten-foot transmitter." -Surreal

Since its founding outside Washington, DC in 1984 by Steven Feigenbaum, Cuneiform has been an international force championing cutting-edge music in a variety of genres. It is especially reknown for pioneering and championing music that transcends traditional, rigidly-defined 20th C. musical genres, and instead fused elements from various styles and genres to form vibrant new genres and hybrids.
Currently releasing 15 albums/year, the label now has 350 titles in its catalogue. These releases cover a broad stylistic range, from experimental rock to avant-progressive, avant-jazz and jazz improvisation, electronic/ambient/noise, and much much more, from classical minimalism to chamber rock to Weird Americana to music beyond genre and genres-yet-to-be-defined. The common denominator or all releases on this uncommon, artist-friendly label is the singularity and consistent high-quality of its artists. Cuneiform's innovative composers and improvisors create music true to their unique visions - and their unfettered visions often defy, reshape, and transcend prior genre boundaries, transforming the musical landscape of jazz, or rock, or New Music/contemporary classical for generations to come.
Cuneiform releases and internationally promotes and distributes recordings by some of the best avant-garde musicians from around the world. Its artists include numerous young, rising-star rock (Afuche, Upsilon Acrux, Zevious) and jazz ensembles (Jason Adaseiwicz's Rolldown, John Hollenbeck's The Claudia Quintet,) as well as avant-garde icons (Wadada Leo Smith, Soft Machine, John Surman, Richard Pinhas/Heldon & Merzbow, David Borden/Mother Mallard Portable Masterpiece Company, Steve Lacy & Roswell Rudd). Cuneiform's catalogue contains the primary oeuvre - often dozens of recordings spanning thirty years to the present day - by such musical mavericks as Univers Zero; Richard Pinhas/Heldon; Curlew; David Borden/Mother Mallard. While primarily releasing original music by composers/improvisors, Cuneiform also has a few repertory groups devoted to creative arrangements of Contemporary Masters such as Steve Lacy, John Mclaughlin, and Frank Zappa, While primarily release new material, it also releases previously unreleased and historically and musicial significant archival material, and reissues significant out-of-print material.
The evocative, genre-bending musics released, distributed and promoted by Cuneiform are some of the most forward-looking, progressive jazz, rock, and classical works on the 21st C. scene. Cuneiform At The Stone provides not only a glimpse of the Cuneiform label's broad roster, showcasing bands that have been with the label since its earliest days (Doctor Nerve, Forever Einstein, Birdsongs of the Mesozoic, Rattlemouth) as well as recent signings (Positive Catastrophe, Dead Cat Bounce, Alec K. Redfearn & The Eyesores, Zevious), but a good overview of where the most exciting developments are in jazz and rock music today.