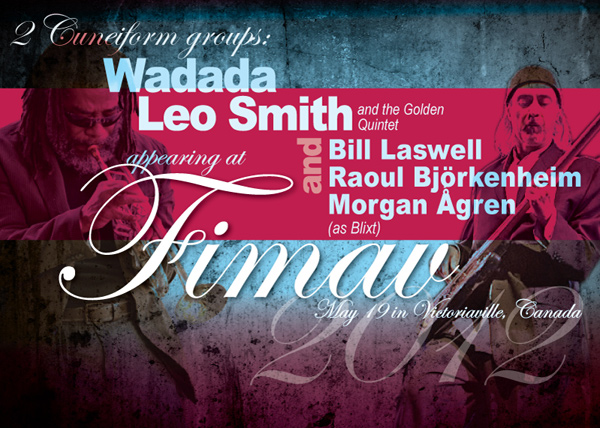 Cuneiform Records is proud to announce that two of our artists,

WADADA LEO SMITH'S GOLDEN QUINTET
&
BLIXT
(Bill Laswell / Raoul Björkenheim / Morgan Ågren)

will appear

SATURDAY, MAY 19, 2012

at the 28th

Festival International de Musique Actuelle de Victoriaville (FIMAV)
Victoriaville, Quebec, Canada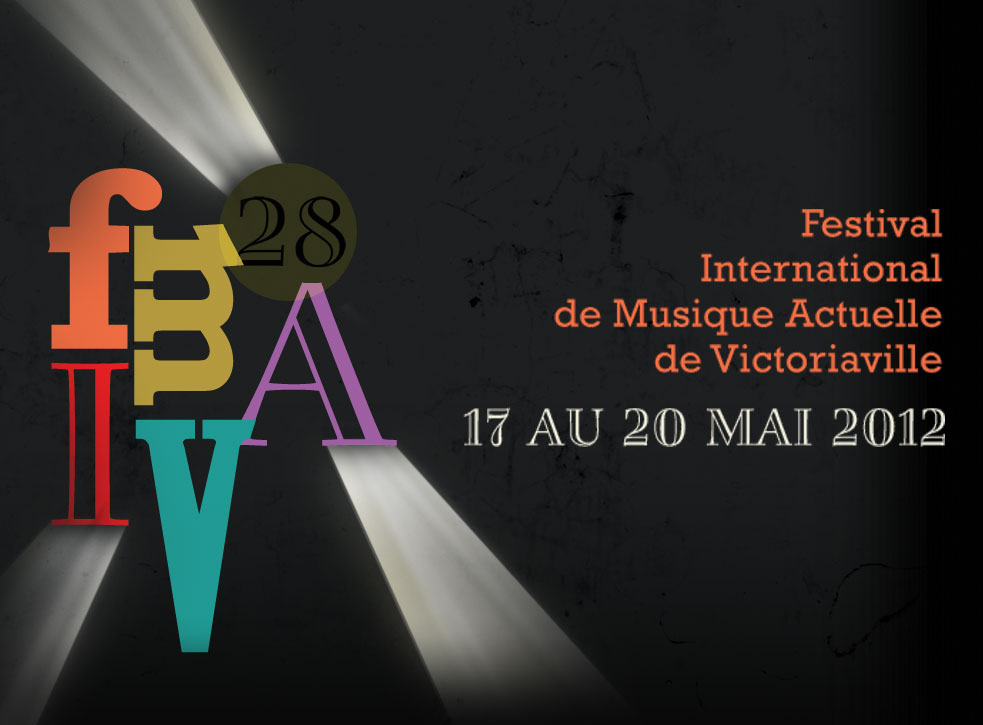 FIMAV is North America's premier festival of avant-garde music

-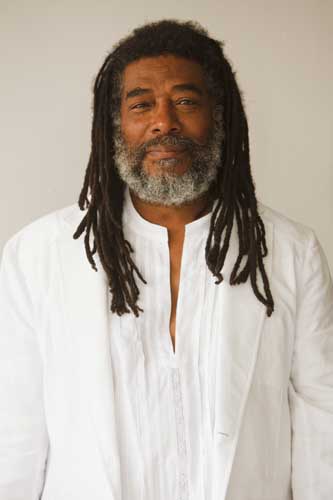 WADADA LEO SMITH'S GOLDEN QUINTET (USA)
Canadian Premiere of Ten Freedom Summers
 Performing at FIMAV
Saturday MAY 19, 2012, 10pm
@ Colisée A, 400 boul. Jutras Est  - Tickets: $36
A child of the South who was raised in the red-hot crucible of the civil rights movement, Wadada Leo Smith has long contemplated creating an epic-scale opus exploring the struggle for African-American freedom and equality. With the Canadian premiere of "Ten Freedom Summers" at FIMAV, on May 19, the visionary trumpeter and composer delivers his masterwork, a vivid, spiritually charged musical tapestry that celebrates the movement's heroes and the turbulent era's milestones, while also posing philosophical questions about the nature of democracy and equality. 

In designing the expansive work, a collection of 21 pieces, Smith focused on the formative decade framed by the landmark 1954 Supreme Court case Brown v. Board of Education that overturned the notorious Plessy v. Ferguson decision ratifying Jim Crow segregation, and the passage of the Civil Rights Act of 1964, which outlawed many forms of racial discrimination.
Appearing along side Wadada Leo Smith will be:
Anthony Davis (piano), John Lindberg (bass), Susie Ibara (drums), Pheeroan Aklaff (drums) and Jesse Gilbert (visuals).
Wadada Leo Smith's website: http://wadadaleosmith.com/ 
Wadada Leo Smith's Facebook page 
-
Ten Freedom Summers
will be released

May 22, 2012
on
Cuneiform Records

Listen to or download:
"Martin Luther King, Jr.: Memphis, the Prophecy" (excerpt)
-

other Wadada Leo Smith releases on Cuneiform

Wadada Leo Smith's Organic
Heart's Reflections
(2-CD / 2011)
"Certainty"


Wadada Leo Smith's
Golden Quartet & Organic
Spiritual Dimensions
(2-CD / 2009)
"South Central L.A."



Wadada Leo Smith's Golden Quartet
Tabligh
(CD / 2008)
"Rosa Parks"


Henry Kaiser and Wadada Leo Smith
(2-SACD / 2005)
"Yo Miles!": Upriver



Henry Kaiser and Wadada Leo Smith
(2-SACD / 2004)
"Yo Miles!": Sky Garden

-

Performing at FIMAV
Saturday MAY 19, 2012, 8pm
@ Cinéma Laurier, 150, rue Notre-Dame Est - Tickets: $28

Blixt is the new power trio of three seasoned, world class musicians: Bill Laswell, Raoul Björkenheim & Morgan Ågren. Their music touches on many aspects of the most creative history of the power trio in rock music; the unbelievable sounds wrested from normal instruments that the Jimi Hendrix Experience gave to the world, the singular freedom used by Guru Guru and the grafting of together of rock, progressive, jazz and punk that was pioneered by Massacre (and the group in which Bill pretty much began his career). If Cream was the first guitar-led supergroup, Blixt is its present-day aftershock. Five decades on, the sound is heavier and darker, the mix of ingredients more transgressive, the origins of the musicians more global, and the harmonic and rhythmic palettes more complex. But at the core of both Cream and Blixt is an unholy marriage of rock and jazz, riffs and improv, the viscera and the cerebrum. And both bands, at their most confrontational, can peel the ears clean off your head.
 -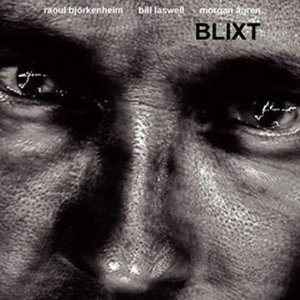 Blixt's self-titled debut album
is available now on Cuneiform Records
Listen to or download:
"Moon Tune"
-

--

To schedule an INTERVIEW BEFORE or AT FIMAV
with WADADA LEO SMITH and/or BILL LASWELL and/or RAOUL BJÖRKENHEIM and/or MORGAN ÅGREN , contact:
Isabelle Mailhot - Directrice Marketing et Relations Publiques
Festival International de Musique Actuelle de Victoriaville – FIMAV
tel: 819-752-7912 – cell :819-350-5382
email: IsabelleMailhot@fimav.qc.ca
To request a promo copy (digital or physical) of Cuneiform albums or
to schedule an INTERVIEW (phone, skype, email or in-person) AFTER FIMAV, please contact:
Joyce, director of publicity & promotion
Cuneiform Records
email: joyce@cuneiformrecords.com
tel: 301-589-8894
mailing address:
Cuneiform Records
P.O. Box 8427
Silver Spring, MD 20910 USA

For hi-res copies of album artwork, photos of the artists and CD press releases, visit the "For Press" section on Cuneiform's web page
graphic design for this email blast (except for FIMAV logo/festival artwork) by www.ameliajh.com