THE CLAUDIA QUINTET

John Hollenbeck and the Claudia Quintet with special guest Gary Versace premiere new works from their Chamber Music America's 2009 New Jazz Works Grant. Commissioning and Ensemble Development program funded through the generosity of the Doris Duke Charitable Foundation.


Latest Cuneiform CD:

"For"
The Claudia Quintet
[
More Info
]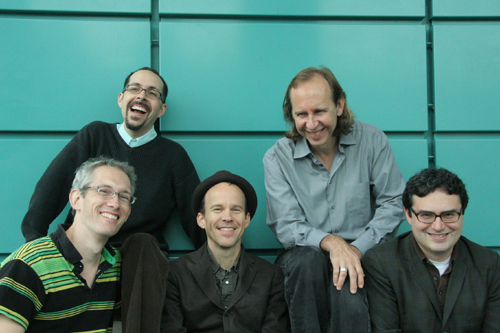 [From left to right: Matt Moran, John Hollenbeck, Chris Speed, Drew Gress, Ted Reichman]

SHOW DETAILS:

December 6 - 8:00pm
Ars Nova Workshop
International House Philadelphia (http://www.ihousephilly.org)
3701 Chestnut Street
Philadelphia, PA 19104
Price: $12 General Admission [Buy Tickets]

December 7 - 8:15pm
Towson State, Center for the Arts Recital Hall
Towson State
8000 York Road
Towson, MD 21252-0001
The Bill and Helen Murray Jazz Residency Program presents drummer and composer John Hollenbeck in the initial event of his week-long residency. All proceeds will benefit the Bill and Helen Murray Jazz Residency.
Tickets: $13 general admission; $7 seniors; $5 students [Buy Tickets]

December 13 - 9:00pm
Douglass Street Music Collective
295 Douglass Street
Brooklyn, NY
Admission: $10 suggested donation

December 31 - 9:00pm-9:45pm, 10:15pm-11:00pm
Boston "First Night 2010" Event
First Church in Boston
66 Marlborough Street
Boston, MA 02116
also performing: Trevor Dunn and Matt Mitchell

January 9 - 9:45pm
Winter Jazz Fest NYC (www.winterjazzfest.com)
Bitter End
147 Bleeker Street
New York, NY


COSMOLOGIC

West-Coast Jazz Quartet Making a Rare East-Coast Appearance.

Latest Cuneiform CD:

"Eyes in the Back of My Head"
Cosmologic
[
More Info
]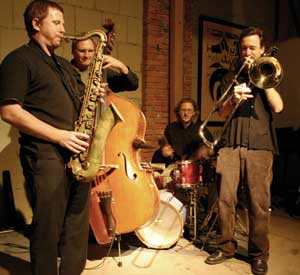 SHOW DETAILS:

March 28 - 10pm
The Stone
Corner of Avenue C and 2nd street
New York City, NY
http://www.thestonenyc.com/
Admission: $10

Other Tour Dates:
January 3 - 7:00pm-10:00pm
Open Gate series, 2225 Colorado Blvd., Los Angeles, CA 90041- 626.795.4989
Admission: $10 General, $5 Students/Seniors

January 17 - 6:30 pm
Orange County Creative Music Collective series - 614 N. Bush Street, Santa Ana, California 92701 - www.myspace.com/ocavantgardejazzcollective, FREE

ERGO

An electro-acoustic sonic arts/jazz trio, Ergo seamlessly interweaves jazz and electronica to create music of stark melodic beauty, enveloping texture, and sonic spaciousness.


New Cuneiform CD:

"Multitude, Solitude"
Ergo
[
More Info
]


SHOW DETAILS:

December 6 - early show: 6:00 pm
Downtown Music Gallery
13 Monroe Street [between Catherine & Market Streets in Chinatown]
New York, NY 10002
http://www.dtmgallery.com/
Admission: FREE!

FORGAS BAND PHENOMENA

Composer/drummer Patrick Forgas has been hailed as "the French answer to the Canterbury scene" ever since his debut 1977 release Cocktail (recorded with members of Magma and Zao). Since the late 1990s, as leader of the Forgas Band Phenomena, he has helped ignite interest in Canterbury-infused jazz-rock among a new generation of young French jazz musicians and fans.


Latest Cuneiform CD:

"Axis of Madness / L'Axe du Fou"
Forgas Band Phenomena
[
More Info
]


SHOW DETAILS:

June 19
NEARFest (www.nearfest.com)
Zoellner Arts Center
Lehigh University
420 East Packer Avenue
Bethlehem, PA 18015-3006

Other date:
December 5 - Theatre de Sens - Sens, France
THE MICROSCOPIC SEPTET

A very rare U.S. appearance by NYC's legendary Microscopic Septet, co-led by Phillip Johnston & Joel Forrester!


New Cuneiform CD:

"Lobster Leaps In"
The Microscopic Septet
[
More Info
]


SHOW DETAILS:

December 5 - 9:30pm doors, 10:00pm show
92Y Tribeca
200 Hudson Street
New York, NY 10013
(212) 601-1000
http://www.92y.org/92yTribeca/
Tickets: $18 advanced / $20 at the door [Buy Tickets]


December 11 - 8pm
Barbes
376 9th St.
Brooklyn, NY 11215
(718) 965-9177
http://www.barbesbrooklyn.com/
Admission: $10 suggested donation

THE ED PALERMO BIG BAND

As a jazz arranger, composer, bandleader and saxophonist, Ed Palermo works magic with Frank Zappa's music. These big-band jazz arrangements are no mere transcriptions; they are "revelations", as one critic best said. Palermo belongs to a tradition of visionary composers and arrangers who have recognized hidden beauty and genius in an avant garde composer's radical work, and created genius arrangements that help reveal that beauty to the public eye.

Latest Cuneiform CD:

"Eddy Loves Frank"
The Ed Palermo Big Band
[
More Info
]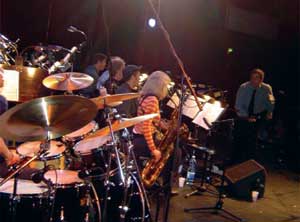 SHOW DETAILS:

December 16 - 8:30pm and 10:30pm
Iridium
1650 Broadway
NYC, NY
(212) 582-2121
http://iridiumjazzclub.com/
Tickets: $25 [Buy Tickets]

February 5 - 7:30pm
Dix Hills Performing Arts Center
Five Towns College,
305 N. Service Road
Dix Hills, Long Island, NY 11746
http://www.dhpac.org/ - (631) 656-2148
Tickets: $25 [Buy Tickets]

RADIO MASSACRE INTERNATIONAL

Radio Massacre International is a British trio of Steve Dinsdale (keyboards, electronics, drums), Duncan Goddard (keyboards, electronics, bass) and Gary Houghton (guitar, synthesizers). These three musicians have worked together in various configurations since they were 16 year old students in the 70's and formed R.M.I. in 1993.

Latest Cuneiform CD [...a new album in January!]:

"Rain Falls in Grey"
Radio Massacre International
[
More Info
]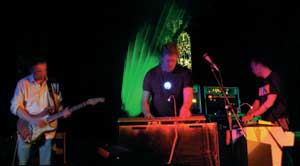 SHOW DETAILS:

April 17 - 8pm
The Gatherings (www.thegatherings.org)
St. Mary's Hamilton Village (Univ. of Pennsylvania)
3916 Locust Walk
Philadelphia, PA

[there will be additional US dates announced as soon as possible]

REVOLUTIONARY SNAKE ENSEMBLE

Led by saxophonist Ken Field, Revolutionary Snake Ensemble is a costumed funk/street beat improvisational brass band performing a unique blend of original and traditional music.



Latest Cuneiform CD:

"Forked Tongue"
Revolutionary Snake Ensemble
[
More Info
]


SHOW DETAILS:

January 13 - 10pm-midnight
Plough & Stars
912 Mass Ave
Cambridge, MA
http://ploughandstars.com - 617-576-0032
+21

January 21
Vernissage Restaurant
1627 Beacon Street
Brookline, MA
http://vernissagerestaurant.com/jazz.aspx - (617) 566-3340
Tickets: $15 (students $12 with ID)

On February 11, 2010, for the 6th consecutive year, Boston's Revolutionary Snake Ensemble will travel on the Amtrak Crescent train from New York City to New Orleans to participate in New Orleans Mardi Gras parades and celebrations.

The train (#19) will depart NYC Thursday February 11th at 2:15 pm, and is due to arrive in New Orleans on Friday February 12th at 7:38pm, with intermediate stops in Philadelphia, Wilmington, Baltimore, Washington, Greensboro, Charlotte, Atlanta, Birmingham, Tuscaloosa, and other cities. Passengers will enjoy special decorations, live music, and Mardi Gras themed celebration on their way to New Orleans. The public is invited to join the band for this unique musical trip. Visit http://amtrak.com for ticketing information.

February 15 - 5:45pm
Krewe of Orpheus
Lundi Gras parade
New Orleans, LA

ZEVIOUS

"The music of Zevious shrewdly juxtaposes order and its opposite: structural intensity pushed to its breaking point in the most appealing way. These boys are brilliant and fearless."–Vijay Iyer
New Cuneiform CD:

"After the Air Raid"
Zevious
[
More Info
]


SHOW DETAILS:

December 10 - 9:00pm
Tea Lounge
837 Union St.
Brooklyn, NY 11215
http://tealoungeny.com/ - (718) 789-2762
Admission: NO COVER! / $5 suggested donation.
(NY CD RELEASE SHOW w/ Scurvy)

January 17
BAR
254 Crown Street
New Haven, CT 06511
http://www.barnightclub.com/

March 5
Ithaca Underground
Ithaca, NY
http://www.ithacaunderground.com/

March 10
The Melody Inn
3826 N. Illinois St.
Indianapolis, IN 46208
http://www.melodyindy.com/ - 317.923.4707