[Click this link to scroll to Year in Review: A list of Cuneiform's 2010 releases]

To our colleagues in Press and Radio;

As the year draws to a close, we'd like to take a moment to look back and think about what made 2010 so unique. In retrospect, 2010 was marked by a series of extraordinarily special events -- of both natural, and man-made origin.

The year began with "Snowmaggedon" -- the DC area was buried for weeks by approximately 40" inches of snow, which left our staff without heat or electric power in their homes for days upon subfreezing days. In February, an earthquake in Chile stranded one of us in that country for weeks. And a couple of months later, in early spring, a volcanic eruption in Iceland disrupted airline travel for an extended period and dismantled many of our artists' touring plans across Europe. Back home, in our offices months later, sporadic power outages made completing our email blast to announce "Friday the 13th: The Micros Play Monk" a challenge. And today, as snow swirls outside of our windows, we temper our thrill with the season's first snow, with our remembrance of Snowmageddon past....

Among extraordinary and wonderful events of the man-made kind, the most notable 2010 event was the 2010 Sonic Circuits Festival of Experimental Music & Beyond here in Washington DC www.dc-soniccircuits.org/festival/2010. In celebration of the Sonic Circuits Festival's 10th year, the 2010 festival was the biggest celebration of avant garde music ever held in Washington DC. It lasted the entire week of Sept. 18-25, 2010, and presented some of the top avant garde musicians in the world along musicians from DC's experimental music scene, in a series of astoundingly diverse and beautiful venues across the metropolitan region. The festival opened and closed at the French Embassy in Washington, where it focused on avant-garde music from the francophone world and presented concerts by Magma, Richard Pinhas and Merzbow, Univers Zero, Miriodor, as well as a showcase of local music one afternoon. In the days between, Sonic Circuits presented Fennesz at the Strathmore Mansion, Andrea Centazzo at the Kennedy Center's Millennium Stage, and much, much more. In collaboration with the French Embassy, Sonic Circuits invited a number of Cuneiform's Francophone artists to perform. Cuneiform's 5-member summer intern team worked throughout the summer to promote the Festival to university students across the DC metro region.

Several other DC concerts by Cuneiform artists made 2010 an extra special year for us. During the summer, Algernon performed at both the 2010 Avant Fairfax Festival in Virginia and the Amnesty International Festival in Silver Spring, MD. And more recently, Wadada Leo Smith's Golden Quartet concert sold out the Library of Congress's 500 seat hall (and filled additional waiting lists) on November 20th. It was a recurring joy for us to be able to see our artists perform in our hometown, and a pleasure for our overseas and out-of-town artists to be able to see Cuneiform's office headquarters.

But the glue that held this extraordinary string of extraordinary special events together throughout 2010 was our series of new CD and CD/DVD releases. In 2010, Cuneiform released 15 extraordinary CDs and CDs/DVDs of high-quality contemporary jazz, avant rock, chamber rock, electronic music and much more. These releases included CDs of new music by young rising stars of jazz and rock (The Claudia Quintet, Jason Robinson, Algernon, Brown vs Brown), and previously unreleased archival material by long-established jazz and rock icons (New York Art Quartet, Soft Machine). We released tribute releases by two amazing jazz groups (The Microscopic Septet performing Thelonious Monk tunes, and Ideal Bread performing Steve Lacy tunes). We also released innovative new music by several long-standing rock icons (post-punk music by Uz Jsme Doma; electronic music by Radio Massacre International and by Richard Pinhas--working with Merzbow and Wolf Eyes!, and chamber rock by Univers Zero). Finally, we reissued several avant-rock and avant-jazz classics that we felt new audiences should know about (Univers Zero's dark Chamber Rock classic *Heresie*, in remastered form; Curlew's genre-bending *The Hardwood* and *A Beautiful Western Saddle*, important documents of NYC's Knitting Factory scene; and the Mats/Morgan Band's *Music or the Money*). We spent an extraordinarily amount of time, effort and expense to release these 15 titles because we think that each and every one of them is special, and deserves to be heard. We hope that you feel that they are among 2010's best releases.

One other glue also held the year 2010 together for us: and that is our relationship with each and every one of you. 2010 was what some folks called "interesting times", and the recession continues, as do the changes in the music industry. We wish each and everyone of you safe sailing in the stormy times. And may the year ahead bring you -- and all of us-- sunny skies.

May each and every one of you have a wonderful Holiday Season. And speaking of which, Cuneiform's special, 16th release is a perfect holiday gift: *The Gift of Purpose* by the late, great bassist Hugh Hopper, who died in 2009. Please consider purchasing a copy of this fundraiser disc from WaysideMusic.com; 100% of your money will go directly to Hugh's family.
-------------------------------------
For those of you who woud like a reminder of what we released in 2010, here is a list. We also included a PREVIEW of the UPCOMING January/February 2011 releases!

REQUESTING PROMOS:
PRESS & WORLD RADIO
Please contact Javier if you need copies of any 2010 titles IMMEDIATELY for potential review at javier@cuneiformrecords.com, and he will send you a DIGITAL DOWNLOAD of the requested album(s). Downloads include artwork and press releases.

Please contact Joyce if you would like PHYSICAL copies of any 2010 titles for potential review at joyce@cuneiformrecords.com and we will send you a package as soon as we can.

NORTH AMERICAN RADIO
Please contact Javier if you need copies of any 2010 titles at radio@cuneiformrecords.com

Artist: The Microscopic Septet
Album: Friday the 13th: The Micros Play Monk


The music of Thelonious Monk was the catalyst that sparked the creation of one of New York's most legendary and important jazz groups, the Microscopic Septet. This album features original arrangements of 12 Monk tunes, half from "back in the day" and half newly-written for this recording, the Microscopic Septet make clear their line of descent from Monk. The humor and angularity of Monk's compositions mesh easily and joyfully with the elaboration and juxtaposition of the Micros-style arranging. Definitively not a dry deconstruction, this is a true celebration of Monk by a group that can arguably be called his most sensitive and sensational heirs.

LISTEN TO: "Bye-Ya"


Artist: Jason Robinson
Album: The Two Faces of Janus


The Two Faces of Janus -– a title and an album that evokes the ancient god of gateways and doors, depicted with one face looking at the past, and one face looking towards the future. Borrowed from Roman mythology and associated with beginnings, Janus is an apt metaphor for the lat-est project by critically acclaimed reedist and composer Jason Robinson. The album positions Robinson—a West Coast transplant— ensconced within New York's most innovative community of creative and visionary jazz musicians. To perform his music, he recruited an absolutely stellar cast: Rudresh Mahanthappa, Drew Gress, Liberty Ellman, George Schuller & Marty Ehrlich.

LISTEN TO: "Return to Pacasmayo"


Artist: The Claudia Quintet with Gary Versace
Album: Royal Toast


The Claudia Quintet's music demonstrates that "Innovative jazz does not have to be harsh, angry, loud, shrill or grating; it can be delicate, witty, ethereal and radiantly lyric, as the Claudia Quintet pointed out…" [Chicago Tribune]. Formed by the Grammy nominated composer / drummer / arranger John Hollenbeck, this NYC ensemble's sound explores the edge without alienating the mainstream, proving that genre-defying music can be for everyone. The quintet [Hollenbeck, Drew Gress (bass), Matt Moran (vibes), Ted Reichman (accordion) and Chris Speed (tenor sax, clarinet)] is here supplemented by pianist Gary Versace, a longtime collaborator of Hollenbeck's. Royal Toast is the new album it began with a collection of song titles that were found through often unlikely sources, divorcing them from their original context, and devising music inspired by these evocative phrases.

LISTEN TO: "Sphinx"

Artist: Soft Machine
Album: NDR Jazz Workshop - Hamburg, Germany 1973 (CD/DVD)
[Archival Release]


Soft Machine were one of the very first groups to bring together jazz with rock. Unlike all of the other musicians who were pioneers of "jazz/rock" who had made their reputation as jazzers first (Nucleus, Miles Davis, Tony Williams Lifetime, etc.), Soft Machine began as a psychedelic rock band and started their life in 1966 playing the same 'underground club' circuit as their early friends Pink Floyd. After two US tours with Jimi Hendrix in 1968, the group began their move towards the fusion of rock and jazz, releasing a number of albums that remain influential classics to this day.

LISTEN TO: "Stanley Stamp's Gibbon Album"

Artist: Ideal Bread
Album: Transmit - Vol. 2 of The Music of Steve Lacy


Transmit is the second album from the Steve Lacy repertory band Ideal Bread. The quartet of expert improvisers and composers includes leader and baritone saxophonist Josh Sinton, trumpeter Kirk Knuffke, bassist Reuben Radding and drummer Tomas Fujiwara; they adhere to Lacy's unique vision while giving each composition new life with a unique approach.

"Like a baker makes his bread, I make music...If I make the same bread tomorrow, that bores me...I have to remake it, I have to do better...I'm always looking for...the ideal bread." – Steve Lacy, April, 1976

LISTEN TO: "As Usual"

Artist: Curlew with Amy Denio
Album: A Beautiful Western Saddle / The Hardwood (CD/DVD)
[Reissue]


A Beautiful Western Saddle, Curlew's fifth album, was the last album by the Cartwright / Cora / Williams / Rupel / Barnett lineup, and was also a marked a radical departure from the band's previous instrumental works. It was an album of songs, with the lyrics are provided by Canadian poet Paul Haines, who is best known for his contributions to the legendary Carla Bley projects, Escalator Over The Hill and Tropic Appetites. Paul Haines was the father of Emily Haines, of the groups Metric and Broken Social Scene and Emily recently co-curated a book of her father's poetry, Secret Carnival Workers.

The Hardwood (DVD) has been remastered from the original video master files and sonically remastered as well. This is a valuable document of an amazing, long-gone scene, the early punk/jazz cauldron of NYC and the Knitting Factory in the mid-80s.

LISTEN TO: "Still Trying"

Artist: The New York Art Quartet
Album: Old Stuff
[Archival Release]

The New York Art Quartet was a band that left the scene too soon. Active for barely a year and a half, the group made just two records—both prized by generations of listeners ever since. Co-leaders John Tchicai (alto sax), who participated in John Coltrane's ground-breaking Ascension album and Roswell Rudd (trombone), considered to be the first free-jazz trombonist, had met a year or so earlier, working with Bill Dixon and others to expand the reaches of jazz. Joining Tchcai and Rudd on this recording taken from performances in Copenhagen, Denmark are Finn von Eyben and Louis Moholo (Blue Notes, Chris McGregor's Brotherhood of Breath). At last, we have a chance, to hear them again!

LISTEN TO: "Old Stuff"
ELECTRONIC / NOISE / SPACE-ROCK

Artist: Richard Pinhas
Album: Metal/Crystal


French experimental guitarist and electronic musician Richard Pinhas summons the assistance of noise artists Merzbow (Masami Akita) from Japan and Wolf Eyes from USA to weave a spellbinding aural web that spans 2 CDs. It intertwines some of the most radical electro-acoustic sonic innovations to emerge from three different continents: Europe, Asia and North America. This album features some of Pinhas' most melodic guitar riffs in recent years, as well as his 'noisiest' sonic abstractions ever. Forged from sonic mayhem during a period of human turmoil, Metal/Crystal is the most recent sonic diamond to emerge from Pinhas' astonishingly creative and relentless river of electro-acoustic sound.

LISTEN TO: "Bi-Polarity (Gold)"


Artist: Radio Massacre International
Album: Time & Motion

Radio Massacre International (RMI) is an electronic improvising trio from the UK that is carving out new ground in the genres of electronic space music and space rock. The trio improvises with a mixture of vintage and modern analogue and digital equipment to create massive, shifting electronic soundscapes. Instantly recognizable, RMI's organic, visceral, and at times rough-edged explorations in space music transport the genre popularized in the 1970s into the 21st century. The world's best current exponents of epic electronic space improvisations, RMI expose the genre to be as vital and vibrant today as it was in its infancy, and more accessible to mainstream audiences than ever before.

LISTEN TO: "Chronos"

AVANT-ROCK
[NEW MUSIC / CHAMBER ROCK / AVANT-PROGRESSIVE / POST-ROCK / JAZZ-ROCK-FUSION]


Artist: Algernon
Album: Ghost Surveillance


Algernon, one of Chicago's fastest rising young bands, features a unique line-up of dual guitars, vibes, bass and drums. Their music is an experience filled with intrigue, fun and twists at every corner. The band is led by guitarist and composer Dave Miller. In addition to Algernon, Miller is also a member of, among other bands, Ted Sirota's Rebel Souls, Zing!, blink., and Tim Daisy's New Fracture Quartet. The other members of Algernon are guitarist Toby Summerfield (Larval), vibes player Katie Wiegman, bassist Tom Perona, and drummer Cory Healey (Fareed Haque's Flat Earth Ensemble). "It's a layered, space-age soundtrack for post-modern groove" – Beep

LISTEN TO: "Broken Lady"

Artist: Univers Zero
Album: Heresie (2010 remaster)
[Reissue]


The Belgian group Univers Zero is legendary for its ominous, unsettling and uncompromising musical vision – a sound and stance that Keyboard Magazine described vividly as "Chamber music for the Apocalypse". Keyboard was reviewing Univers Zero's second album, Heresie, when it coined that resounding music-for-the-end-of-the-universe phrase. Heresie, ever since it was first released over thirty years ago, has served as a lightening rod for those fascinated by the darkness that coursed through the band's astounding music. Dark and elegantly beautiful, Univers Zero's music, with its hybrid nature – a perfect melding of classical music and rock – and its mysterious duality – simultaneously medieval and modern -– was shockingly unlike anything else on the rock or classical stage.

LISTEN TO: "Jack the Ripper"

Artist: Už Jsme Doma
Album: Caves / Jeskyneˇ

Už Jsme Doma is a living, fire-breathing alt-rock rock legend: one of "the two great Bastions of the Czech alternative scene," said the Prague Post, which ranked them in importance beside the Plastic People of the Universe. In '89, when the Velvet Revolution ended Czechoslovakia's communist rule, Už Jsme Doma burst like a fireball from unlocked doors and began taking siege of every public stage worldwide. To their home audiences, Už Jsme Doma's music – rooted in punk's DIY ethic and driven by progressive and avant-garde musics' post-modern scavenger aesthetic – was the symbol of artistic freedom: the freedom to create without boundaries or restrictions.
"[Už Jsme Doma] occupy a paradoxical territory between infectious...giddiness and a uniquely strident, angst ridded avant-progressive urgency." – Alternative Press

LISTEN TO: "Droplet"


Artist: Mats/Morgan Band
Album: The Music of The Money?
[Reissue]

Keyboardist/vocalist Mats Öberg and drummer Morgan Ågren have been playing together for nearly 30 years, since Mats was 10 and Morgan was 14! They were 'discovered' at a very young age by Frank Zappa, who invited them to join his band (Zappa's ill health ultimately cancelled these tour plans) and they are musical legends in their native Sweden and beyond, known for their wild and funny musical performances. The Music of The Money? is their second album and one of the band's favorites. It includes bonus material throughout. Gustaf Hielm (ex Meshuggah) plays on all unreleased material! Lelo Nika (from Zawinul Syndicate) also makes an appearance playing accordion.

LISTEN TO: "Paltsug"


Artist: Brown vs Brown
Album: Odds and Unevens


Brown vs Brown is an intense, stunningly tight and complex 'rehearsal-intensive' avant-garde rock band from Amsterdam, Holland. Brown vs Brown was formed in 2004. Very much a collective - all members bring in compositions - the band spends a lot of time refining the arrange-ments and deepening their sound. It's denial of a simple description has spawned terms such as math-rock, stumble-funk, avant-progressive, punk-jazz and what-not. The sound is a highly energetic & inventive music, which is tight but dirty, complex but loose, where amputated rhythms collide with spring-loaded melodies and surprise awaits around every corner; and there are a lot of corners in Brown vs Brown's world.

LISTEN TO: "Whirlpool"

Artist: Univers Zero
Album: Clivages

The Belgian band Univers Zero is legendary for their uncompromising musical vision – a sound and stance Keyboard described as "Chamber music for the Apocalypse". Simultaneously medieval & modern, its distinctive, dark and elegantly beautiful music has set the standard for "chamber rock", UZ's singular sound derives from its unique instrumentation (piano and keyboards, violin, clarinets saxophone, oboe, bassoon, English horn, electric bass, drums) combined with brooding gothic imagery, elements of European folk and other world musics, the iconoclasm and intensity of rock, the relentless sonic experimentation of the avant garde, and a classically-inspired writing style.

LISTEN TO: "Les Kobolds"

A SPECIAL BENEFIT RELEASE FROM 2010
The Gift of Purpose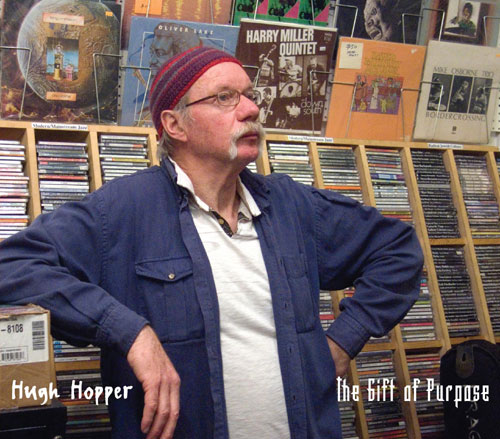 Cuneiform has collaborated with two members of the Bone trio – guitarist Nick Didkovsky and drummer John Roulat – to release a benefit CD to help the family of Bone's third member: bassist Hugh Hopper, who died of leukemia in 2009. Hugh was known to many as the legendary bassist for Soft Machine. The CD is called The Gift of Purpose, and features a live concert that Bone performed at Baltimore's Orion Sound Studios on Feb. 16, 2008, during Hopper's last tour of the States, in addition to a bonus track by Didkovsky, Roulat, Colin Marston (Behold....the Arctopus, Dysrhythmia, Krallice) and Daevid Allen (Gong, Soft Machine, etc). The manufacturing costs for The Gift of Purpose were donated by Didkovsky, Roulat, and Cuneiform's Steve Feigenbaum; Bill Ellsworth donated his graphic layout services.
The Gift of Purpose was released as a limited edition, and 100% of all proceeds from its sale will go directly to Hugh's widow, Christine Hopper. Because this is a benefit album, promo copies are not available.

The CD are available for sale at Wayside Music www.waysidemusic.com and at Downtown Music Gallery www.downtownmusicgallery.com. We encourage everyone to help the Hopper family by purchasing a copy of the CD – "we get by with a little help from our friends."
Hugh remains alive in the hearts of all who have known him. And his performances are captured for eternity on recordings worldwide. We encourage our friends in press and radio to keep his musical legacy alive so that new generations will discover his splendid tunes, his inventive electronics, and his unique, irreplaceable and forever memorable sound on the bass.
At the beginning of 2011, we will send out a mailing with detailed info on our January/February 2011 releases, but for those who want a heads-up, our upcoming releases will include:

artist: Gutbucket - Flock
artist: Carlo De Rosa's Cross-Fade - Brain Dance
artist: Led Bib - Bring Your Own
artist: John Surman - Flashpoint: NDR Jazz Workshop - April '69
artist: Planeta Imaginario - Optical Delusions
[FREE TRACKS OF UPCOMING RELEASES ARE AVAILABE AT: www.cuneiformrecords.com]


best regards,
joyce
director of publicity & promotion
cuneiform records
joyce@cuneiformrecords.com
www.cuneiformrecords.com
www.myspace.com/cuneiformrecords
tel. 301-589-8894
p.o. box 8427, silver spring, md 20907
[washington, d.c.]

"You go your own way, and - eventually - people will catch up to you."
- Thelonious Monk, as quoted by Steve Lacy
[Coda]